Details emerge on how Catholic priest allegedly murdered by gay lover as sacrifice to Illuminati spent his last minutes
Count-down to gruesome murder and the findings that the DCI has linked to a cult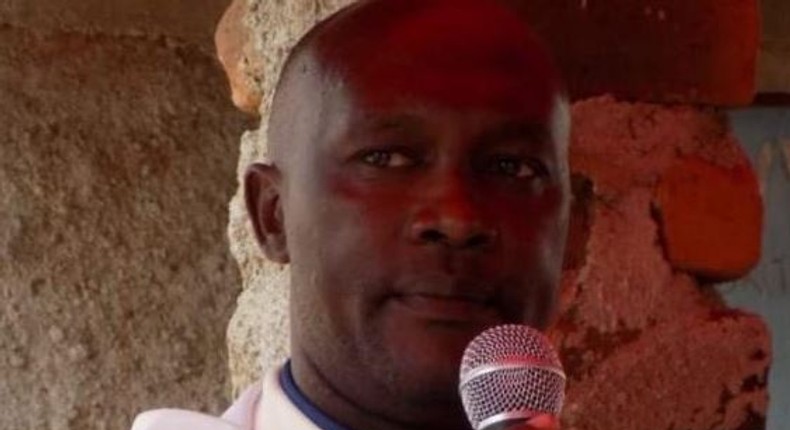 From the investigations as well as confessions and statements from suspects, detectives have pieced together events leading to the gruesome murder of a Catholic priest whose death has now been linked to a cult with the key suspect stating that he killed the priest as a sacrifice to Illuminati in exchange for wealth and prosperity.
It has since emerged that the priest spent quality time bonding with his self-confessed male lover, 25-year-old Michael Mutunga.
Oblivious of his imminent death, the priest and his lover made tea which they took as they held discussions.
Investigators have also established that the priest drove himself to his rural home in Mbeere where he was murdered, contrary to earlier reports that he had been abducted.
Police logged into the cult's website which the suspect, Micheal Muthini Mutunga, identified as Illuminati Official Clun based in Sandton City, Johannesburg, South Africa.
The suspect confessed that the cult required it's members to sacrifice a relative or a close friend in order for them to scale up the ladder and according to Muthini, Fr Kyengo was a close friend to both him and the third suspect.
Mutunga's application was retrieved by sleuths after logging into the website, where he had explained why he wanted to join the secret society.
The cult promised it's members vast wealth and plenty of opportunities if they did as instructed.
Trail of Mpesa transactions, urgent calls and more arrests
Police on Thursday arrested yet another suspect identified as Kavivya Mwangangi who is believed to have played a role in the murder after following a trail of Mpesa transactions made from the slain priest's Mpesa account.
The Standard reports that a source familiar with the investigations revealed that Mwangangi had told the police how he was called by Kyengo's alleged lover (Mutunga) and told to rush to the house where the priest had been murdered.
Upon arriving at the house rented by Mutunga, Mwangangi reportedly found the priest lying dead on the sofa.
Kyengo's body was then loaded onto his car and driven to a nearby riverbank where it was buried in a shallow grave.
Pulse Live Kenya
A knife that is believed to have been used in the murder was retrieved from a pit latrine on the same plot.
Investigations indicate that the priest died after being stabbed in the neck and the stomach.
According to the latest update from Director of Criminal Investigations George Kinoti police had recovered blood-stained clothes, a mobile phone and SIM card, which were used to receive cash from Kyengo's cellphone, as well as a notebook with details of individuals and their phone numbers. 
JOIN OUR PULSE COMMUNITY!
Recommended articles
8 month-old baby thrown into the Indian Ocean at Likoni Ferry by mother rescued
Residents reveal blunder behind Eastleigh building tragedy that left 4 dead
Inside the decorated career of ex-MP Lawrence Sifuna who died today
MP Peter Salasya speaks after ugly confrontation that left his car damaged
Missing MPs: Interior CS Kindiki gives update on search & rescue mission
It is troubling & unacceptable – eyes on Azimio as Martha Karua gives update
5 dead, 10 rushed to hospital in tragic Kericho-Nakuru highway accident
David Ndii explains why UDA MPs are rebelling against Ruto
CS Murkomen speaks on dropping out of Ph.D. course twice