Kidnappers have demanded Sh150 million for the safe return of two Cuban doctors who were abducted from their Kenya work station on April 12.
Community elders met with the people holding the two doctors in a remote area between Buale and El-Ade in Jubaland region of Somalia.
The elders confirmed that the two doctors - Dr Herera Correa, a general practitioner and Dr Landy Rodriguez, a surgeon - were both still alive.
Dr Herera Correa (L), a general practitioner and Dr Landy Rodriguez, a surgeon who were kidnapped in Mandera County
The delegates who negotiated with the abductors added that the doctors were still administering treatment to residents in the region where they are being held though their movements are highly restricted.
Suspected Al Shabaab militants
Intelligence reports have indicated that the doctors are likely to have been taken by a group of bandits who later handed them over to Al Shabaab militants who are now demanding the $1.5 million (Sh150 million) pay out.
Dr Rodriguez and Dr Correa were abducted in the morning while on their way to their assigned station, the Mandera County Referral Hospital.
The vehicle they were traveling in under tight security was cornered and one of the officers guarding them was unfortunately shot dead.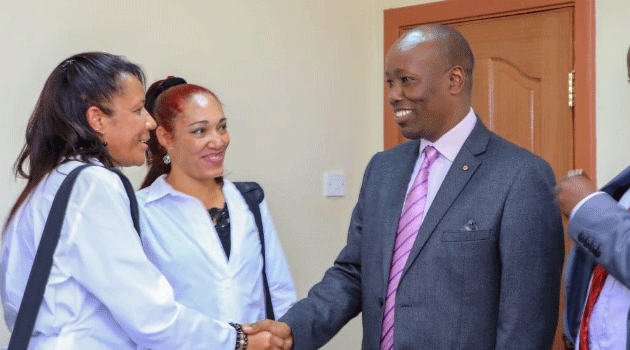 Nakuru Governor Lee Kinyanjui with two Cuban doctors posted to his county
They are part of a team of 100 Cuban doctors who were brought to Kenya to lend their expertise to the counties.
Following their abduction, their counterparts attached to Wajir, Garissa and Tana River counties were recalled and reassigned to other counties.