Julius Malema lectures Ruto on hosting the King, unkept promises & African unity
South Africa's Economic Freedom Fighter party leader Julius Malema criticised Kenya's President William Ruto during his visit to Kenya on November 9, 2023.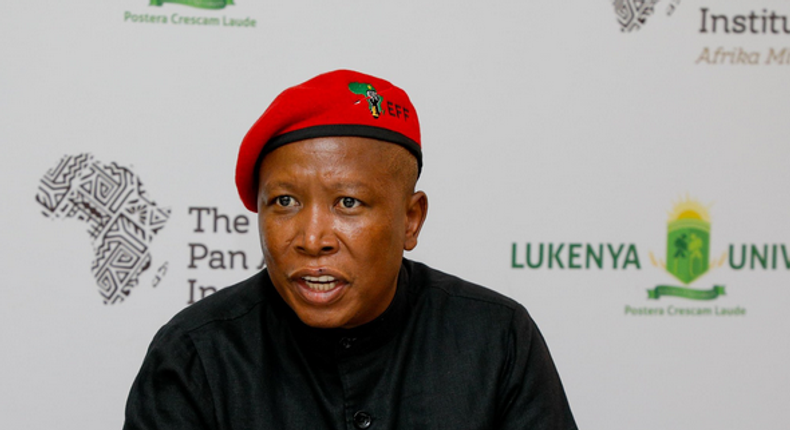 Malema travelled to Kenya to attend the launch of the Pan African Institute at Lukenya University.
In his speech, Malema lashed out at Ruto for a number of things including his frequent travels outside the country, honouring King Charles III as well as his stand on the Israel-Palestine conflict.
Malema also accused Ruto of failing to deliver on the promises he made to Kenyans when he ran for office.
"I don't know if President William Ruto means it because he said so many things and I cannot locate him these days because the things he said during elections and the things he is doing now are two different things," said Malema.
Malema castigated the president for failing to put his money where his mouth is to get rid of the US dollar as a means of trade in Africa.
Malema said that he heard Ruto saying that Africa needs to do away with the dollar and build their own, but his actions were not corresponding with the commitment.
South Africa opposition leader Julius Malema during his visit to Kenya
Malema said that the Kenyan army is a product of the Mau Mau rebellion, and those who killed people in the Mau Mau rebellion cannot be saluted by the same army of the children of those who were killed during Mau Mau rebellion.
Overall, Malema's speech was aimed at promoting pan-Africanism and criticising leaders who he believes are not doing enough to promote the interests of the African continent.
"We call upon the Kenyan Government to be firm and to decide what they want to be, do they want to be Pan Africanist or do they want to be proponents of neocolonialism, you can't have it both, only one call must be made and that call is open Africanism," he said
Malema's visit was also attended by lawyer P.L.O. Lumumba who is the chair of the Pan African Institute.
"It is also inspiring to see that our esteemed Prof Lumumba and those who are joining him in this initiative have chosen our continent and Kenya in particular, to establish an intellectual research and knowledge institution," Malema added.
Speaking on Ruto's stance of the Israel-Palestine conflict, the South African opposition leader said that the head of state is on the wrong side of history.
JOIN OUR PULSE COMMUNITY!
Recommended articles
Nairobi residents to experience water rationing despite overflowing dams
Housing Levy ruling: Edwin Sifuna tells Kenyans to halt celebrations
Housing Levy back on! Court temporarily suspends its earlier ruling
High Court suspends implementation of Ruto's key health law
Hussein Mohamed: Why Cabinet hasn't declared El Nino a national disaster
Biden to skip UN Climate conference kickoff in Dubai, White House schedule confirms
Azimio MP's brother found dead
Ruto endorses National Dialogue Committee recommendations, reveals next steps
Martha Karua speaks as focus shifts to Ruto & Raila after NADCO report release