KeNHA issues statement after heavy rains cause landslide, blocking traffic
The Kenya National Highway Authority (KeNHA) has issued a traffic advisory for motorists using the Meru-Mikinduri-Maua (B102) Road, cautioning them about a landslide that has occurred on a section of the road due to heavy downpours in the area.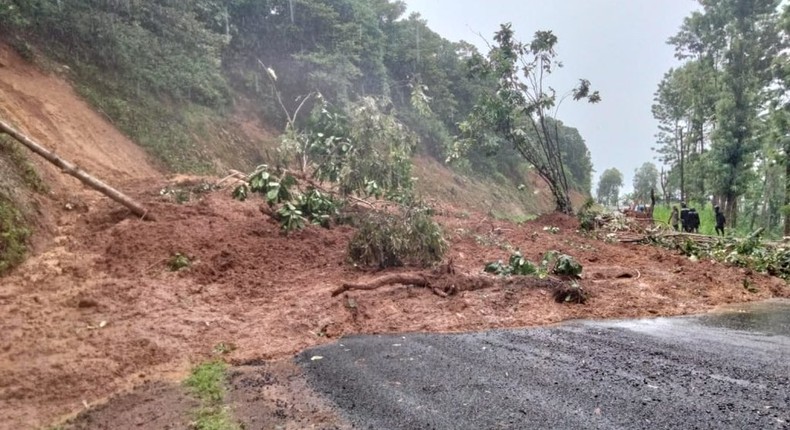 On Friday, November 3, many parts of the country experienced heavy rainfall.
The landslide has prompted KeNHA to advise the public to use alternative routes to and from Maua town until further notice.
KeNHA has mobilized its team to the site, where efforts are underway to clear the landslide and restore traffic flow.
The authority is working diligently to address the situation promptly and ensure the safety of all road users.
Motorists are urged to stay updated on the situation through official channels and to adhere to the provided alternate routes for their own safety.
It is essential for drivers to exercise caution and patience while navigating alternative roads during this period.
A guide for safe driving in wet conditions
As the rainy season blankets the country, motorists are faced with the challenge of navigating wet and slippery roads.
Driving in rainy conditions requires extra caution and adherence to safety measures to ensure a smooth and secure journey. Here are some essential tips to keep in mind when driving in the rain:
Slow down and adjust your speed to match the road conditions. Wet roads can be slippery, and reducing your speed allows for better control and reaction time.
Increase Following Distance
Maintain a safe following distance from the vehicle in front of you. The increased stopping distance helps prevent rear-end collisions, especially in case of sudden stops.
Visibility is crucial in rainy weather. Turn on your headlights, not just for your own visibility but also to make your vehicle more visible to others on the road.
Sudden movements can lead to skidding on wet surfaces. Avoid abrupt turns, accelerations, or braking. Gradual and smooth maneuvers are key to maintaining control.
Met department warns of heavy rains Pulse Live Kenya
Check Tire Tread and Pressure
Ensure that your tires are in good condition with proper tread depth and inflation. Bald tires significantly increase the risk of hydroplaning.
Use Defrosters and Wipers
Keep your windshield clear for optimal visibility. Use windshield wipers and defrosters as needed to maintain a clear line of sight.
Hydroplaning occurs when your tires lose contact with the road due to a layer of water. To prevent hydroplaning, avoid speeding, drive in the tracks of the vehicle in front of you, and refrain from sudden movements.
Check weather forecasts before your journey and stay updated on road conditions. If possible, postpone travel during heavy downpours or storms.
Avoid driving through large puddles if you cannot gauge the depth. Puddles may hide potholes or other obstacles that can damage your vehicle.
JOIN OUR PULSE COMMUNITY!
Recommended articles
Nairobi residents to experience water rationing despite overflowing dams
Housing Levy ruling: Edwin Sifuna tells Kenyans to halt celebrations
Housing Levy back on! Court temporarily suspends its earlier ruling
High Court suspends implementation of Ruto's key health law
Hussein Mohamed: Why Cabinet hasn't declared El Nino a national disaster
Biden to skip UN Climate conference kickoff in Dubai, White House schedule confirms
Azimio MP's brother found dead
Ruto endorses National Dialogue Committee recommendations, reveals next steps
Martha Karua speaks as focus shifts to Ruto & Raila after NADCO report release