Highlights of Uhuru's speech as Coronavirus cases rise to 28
The President and his deputy to take a pay cut.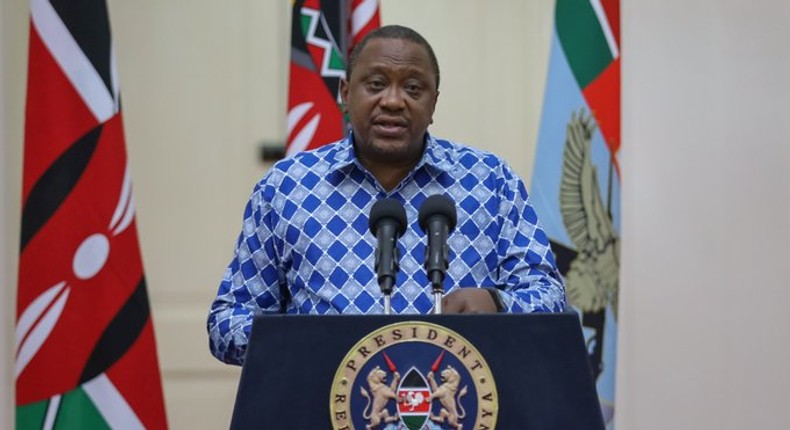 The Head of State confirmed three more new cases as he mentioned one of the patients had recovered.
"we have today registered one recovery of the patients. This is a clear indication that we can and we will beat the virus," he stated.
"That effective Friday, 27th March, 2020; a Daily Curfew from 7 p.m. to 5 a.m. shall be in effect in the territory of the Republic of Kenya, with all movement by persons not authorized to do so or not being Medical Professionals, Health Workers, Critical and Essential Services Providers, being prohibited between those hours ," the Head of state announced.
The President added a raft of measures the Government had taken to cushion Kenyans amid the Covid-19 pandemic.
He directed the National Treasury to implements the following immediate reliefs and increase disposable income to the people of Kenya, through:
A. 100 % Tax Relief for persons earning gross monthly income of up to Ksh. 24,000.
B. Reduction of Income Tax Rate (Pay-As-You-Earn) from 30% to 25%.
C. Reduction of Resident Income Tax (Corporation Tax) from 30% to 25%;
D. Reduction of the turnover tax rate from the current 3% to 1% for all Micro, Small and Medium Enterprises (MSMEs);
E. Appropriation of an additional Ksh. 10 Billion to the elderly, orphans and other vulnerable members of our society through cash-transfers by the Ministry of Labour and Social Protection, to cushion them from the adverse economic effects of the COVID-19 pandemic;
F. Temporary suspension of the listing with Credit Reference Bureaus (CRB) of any person, Micro, Small and Medium Enterprises (MSMES) and corporate entities whose loan account fall overdue or is in arrears, effective 1st April, 2020.
Kenyatta announced he would also be taking a pay cut to share the burden caused by the deadly virus.
"Over the duration of the global crisis and commencing immediately, my Administration has offered a voluntary reduction in the salaries of the senior ranks of the National Executive, as follows: The President & Deputy President – 80%, Cabinet Secretaries – 30%, Chief Administrative Secretaries – 30% and Principal Secretaries – 20% ," mentioned.
The National treasury was also directed to cause and immediate reduction of VAT from 16% to 14%, effective 1st April,2020.
JOIN OUR PULSE COMMUNITY!
Recommended articles
Ruto, Gachagua, Cabinet, CEOs, governors hit by new travel restrictions
New features of Kenya's new 3rd generation ID aka Maisha Card
Babu Owino unlocks new Karate belt [Video]
CS Kuria turns down CS Linturi's request as Meru leadership wrangles escalate
Theresa Kufuor: Former First Lady dies at age 87
El-Nino: Sakaja reveals areas where Nairobi residents will be relocated next week
First Lady Rachel Ruto dedicates prestigious award given in India to Kenyans
Sh250, my beard & tomatoes are all I have - Yesu Wa Tongaren decries poverty
Rift Valley Regional Commissioner's bold declaration on Mau Forest gets Ruto's support