PS recommends action against Kibra residents who harassed Chinese nationals
The incident happened on Tuesday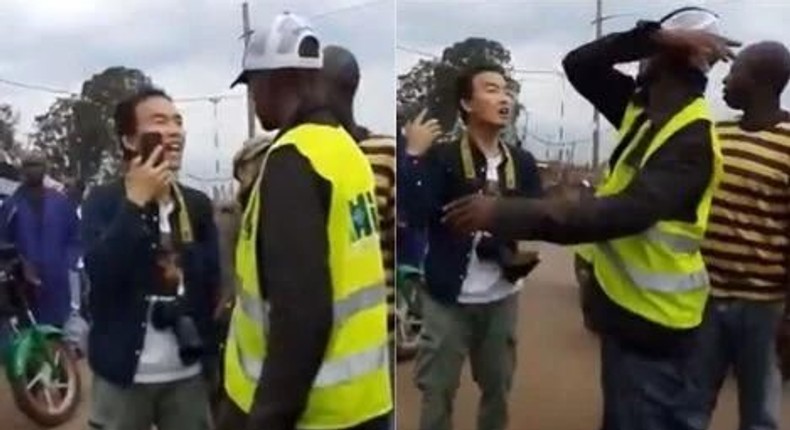 Foreign Affairs Principal Secretary Kamau Macharia on Wednesday recommended action against Kibra residents who harassed Chinese nationals on Tuesday.
A viral clip of the incident showed the Kibra residents threatening to beat up a Chinese man and a woman who were walking through the slum area.
Kibra residents were heard shouting at the Chinese nationals accusing them of "bringing Coronavirus".
Foreign Affairs Principal Secretary Kamau Macharia
Amb. Macharia told reporters that the matter ought to be taken up by the Ministry of Interior and the residents captured on the clip should be charged with offences against Article 27 of the Constitution, and the National Cohesion and Integration Act No. 12 of 2008.
"Following the attack on Chinese nationals in Kibra, the anti-hate law should be adhered to, and the matter should urgently be referred to the Interior Ministry for appropriate action," he stated.
Law against attacking foreigners
The law reads: "(4) The State shall not discriminate directly or indirectly against any person on any ground, including race, sex, pregnancy, marital status, health status, ethnic or social origin, colour, age, disability, religion, conscience, belief, culture, dress, language or birth. (5) A person shall not discriminate directly or indirectly against another person on any of the grounds specified or contemplated in clause (4)."
The Constitution further directs: "Any person who commits an offence under this section shall be liable to a fine not exceeding one million shillings or to imprisonment for a term not exceeding three years or to both."
JOIN OUR PULSE COMMUNITY!
Recommended articles
Photos: 9 of KDF's most lethal sniper and assault rifles
At 40 years, I began studying law - Interesting story of Danstan Omari
Ruto decides fate of 1.27 million Junior Secondary students
Treasury bows to MPs' demand to disburse NGCDF funds
Inside Famous US actor's plans to open luxury hotel in Kenya
TransferGo expands money transfer service to Africa; launches in Ghana & five other countries
Details of Ruto's meeting with Atwoli at State House
Parliament committee recommends suspension of 4 IEBC commissioners
Hustler Fund: How much Kenyans borrowed hours after launch