Kenya losing propaganda war as Al Shabaab militants puts number of dead soldiers at 60
The al-Qaeda-linked group, Alshabaab has released information and photos of the Kenyan military base attack, in Kulbiyow, southern Somalia.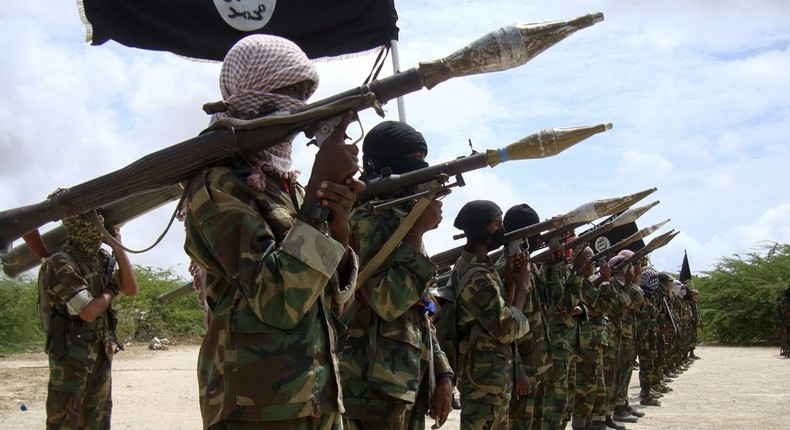 The Al-Qaeda-linked group, Al shabaab has released information and photos of the Kenyan military base attack, in Kulbiyow, southern Somalia.
According to the terror militia, they claimed they killed more than 60 Kenyan soldiers and seized military vehicles and weapons.
After the Kulbiyow attack, the department of defense first denied the attack; only later to acknowledge it took place and placing the number of dead soldiers at nine deaths - two soldiers and seven servicemen.
Kenyan authorities also added, only 15 soldiers were injured during the fierce engagement and that they had been evacuated to Nairobi for treatment.
Military spokesperson, Paul Njunguna claimed KDF repulsed the Al Shabaab terrorists and in the process killed 70 al Shabaab members and wounded scores during the counter-attack.
The Star, a local daily also discredits the government figures, putting the number of Kenyan soldiers killed at 16 and not nine.
Propaganda in war is very effective and each side normally wants to exaggerate their winnings and downplay their losses. The strategy is as old as World War 1 & 11.
However the Government silence on the El Adde attack on January 15 in which al Shabaab militants slaughtered scores of KDF soldiers and took away some as prisoners of war does not help either.
A year since the raid, the only information forthcoming on El Adde is come from media analysts and the terror group.
Al  Shabaab during that attack claimed to have more more than 100 kenyan soldiers, what surprised many security analysts. though is the ease with which the militants breached barriers during the attack.
Analysts say the Kenya Defence Forces' lack of transparency only provided more fodder for the militia's ideological battle.
"There's no way of countering that narrative because there is no real narrative coming from the government," Peter Pham, director of the Atlantic Council's Africa Center told CNN.
It no wonder that international media houses such as BBC are now using Al Shabaab statistics in their news report, something unheard off in the past.
Military in general always try to concede information of attacks and death on their soldiers in an attempt to control public panic and Kenya is no different.  However has history, logic and science has shown too much withholding does not help rather it just serves to create more uncertainty among the public especially family members.
The public is hungry for information about how many soldiers died; how many bodies were recovered and how many are missing but above all are we losing the war on Al Shabaab?
JOIN OUR PULSE COMMUNITY!
Recommended articles
Itumbi defends Raila-diehard Nuru Okang'a after his arrest
How SHIF contributions will affect unemployed & non-salaried Kenyans
Ruto announces free cash for 1.2 million borrowers on Hustler Fund [Qualifications]
Killers of Justice Effie Owuor's farm manager jailed
Police apprehend rogue conductor on Thika Road assaulting a female passenger [Video]
Woman accused of buying Sh500M houses in cash loses 35 units & Sh95M held in banks
Raila declares his stand on the National Dialogue Committee report
NYS announces UK job opportunities for its graduates [Requirements]
President Ruto welcomes NBA's new office in Nairobi [Photos & Video]