Raila raises red flag on yet another multi-billion international government "scandal"
Raila has questioned the signing of a bilateral cooperation agreement between Kenya and the Government of the United Arab Emirates.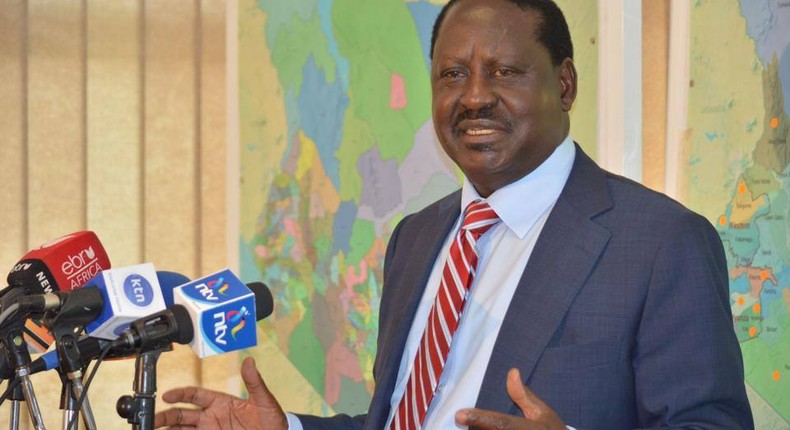 National Super Alliance (Nasa) leader Raila Odinga has raised another red flag on another government "scandal" involving billions of shillings.
In that agreement, the Government of the United Arab Emirates agreed to lend to the Government of Kenya a concessional loan to the tune of approximately 275 million USD (Sh28 billion).
The loan was to be used in the development of the Port of Mombasa including what the agreement called "enhancing operational and business efficiencies within the Second Container Terminal" in addition to the development of Kipevu Oil Terminal.
However, according to the opposition leader, the loan is a bribe to senior persons in government.
Raila now says the loan was given on condition that the Government of the United Arab Emirates will appoint an agent to operate, manage and undertake the expansion of the Second Container Terminal of the Port of Mombasa.
UAE went ahead to appoint Dubai Port World (DP World) to manage the facility.
According to Raila, UAE did not win but purchased the management of our second container terminal at a cost of 275 million US dollars.
"Dubai Port, which has been given the contract to manage the second container terminal in Mombasa, was defeated by about 12 other port operators which expressed interest in managing the second terminal," Raila alleges.
International port operators
Raila said international port operators, from countries with mega port operations like China, Japan, Singapore, and the Netherlands participated in the tender and emerged on top of the defeated Dubai Port.
The opposition leader said that in the tender, Chinese consortium PSA International, which had partnered with a local group – Multiple Hauliers – emerged top.
"Can President Uhuru Kenyatta prove to Kenyans that the so-called loan from the United Arab Emirates was not a bribe to sway the contract in favour of Dubai?
Can the President explain to Kenyans how he ended up giving the job to Dubai instead of any of the more than ten firms that came top? What was the purpose of the tender when the job ended up being given to a defeated bidder?" Raila posed.
Raila now wants the President to assure Kenyans that he has no personal interest in having the Middle East firm manage our port and that he has no personal stake and gain in the so-called loan to Kenya in return for the port being managed by Dubai.
JOIN OUR PULSE COMMUNITY!
Recommended articles
Oscar Sudi speaks after KNEC declared his academic certificates were fake
Kakamega high priest Shem Shamalla dies after short illness
World Bank approves Kenya's Sh16 billion loan on strict conditions
Knec gives evidence that Oscar Sudi's KCSE Certificate was faked
Why doctors are concerned with rise in Oeosophageal Cancer cases
Uhuru warns Africa's GDP may fall by 30 percent
DCI summons Nairobi acting governor Ann Kananu
CBK revokes mobile payments service provider
Ruto and Waiguru speak after hearty reunion [Video]