US President orders probe of Democrats Schumer, Pelosi over Russia ties
Trump tweeted a photo on Friday of Schumer's meeting with Putin in New York in 2003 and the picture showed them drinking coffee and eating donuts.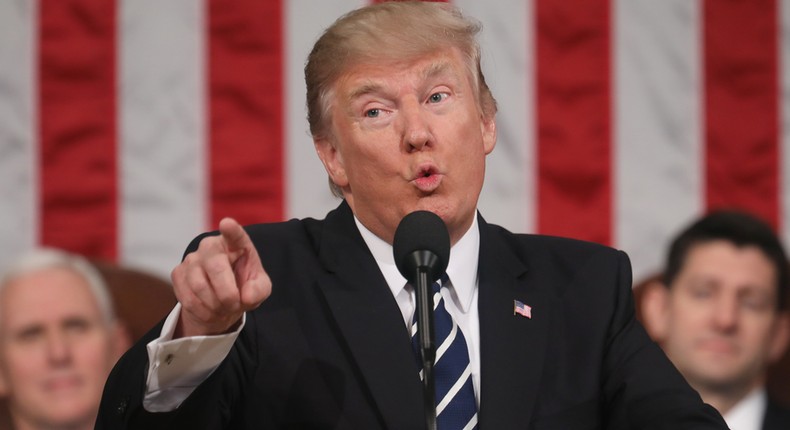 He also called for similar investigation against the House of  Representatives Minority Leader, Nancy  Pelosi.
The president, in calling for a probe into Schumer's "ties to Russia and Putin" also called the New York Senator "A total hypocrite!"
"We should start an immediate investigation into @SenSchumer and his ties to Russia and Putin. A total hypocrite!" Trump tweeted.
Schumer responded on Twitter later writing that he would "happily talk" under oath about his meeting with Putin, which took place "in full view of press and public."
The president then posted a second tweet demanding "a second investigation, after Schumer, of Pelosi for her close ties to Russia, and "lying about it."
Trump, whose administration has been under siege for contacts with Russian officials, posted a 2010 photo of her with Russian officials at a meeting.
"I hereby demand a second investigation, after Schumer, of Pelosi for her close ties to Russia, and lying about it," Trump said on his Twitter handle.
Pelosi said on Friday that she had never met the Russian ambassador to the U.S., Sergey Kislyak but the photo posted showed her sitting at a table with a number of Russian officials, including the envoy and then-president Dimitri Medvedev.
Pelosi later clarified that she never had a private meeting with the ambassador.
Trump had, in a statement on Thursday, said that the scandal plaguing his Attorney-General over contacts with Kislyak "is a witch-hunt" and blamed Democrats for blowing up the controversy for political reasons.
"Jeff Sessions is an honest man. He did not say anything wrong. He could have stated his response more accurately, but it was clearly not intentional.
"This whole narrative is a way of saving face for Democrats losing an election that everyone thought they were supposed to win.
"The Democrats are overplaying their hand. They lost the election and now, they have lost their grip on reality.
"The real story is all of the illegal leaks of classified and other information. It is a total witch hunt!" Trump said in the statement.
JOIN OUR PULSE COMMUNITY!
Recommended articles
Isaac Mwaura named gov't spokesperson, here's how much money he'll get per month
Ruto reshuffles 8 CSs among them Mudavadi, Moses Kuria, Alfred Mutua
Kenyan Netflix users to lose free access as paid plans take center stage
Millions KDF soldiers' families receive if they die in battle within & outside Kenya
CS Murkomen gives way forward after multiple accidents along Southern Bypass
Watch: Bipartisan talks come to a near halt after Kalonzo & Hassan Omar clash
Al Shabaab militants die after IED backfires on them
Education ministry temporarily closes Eregi Girls High School
Face masks may be reintroduced as diphtheria spreads to 18 states including Lagos, FCT