Tonto Dikeh should never have revealed Mr X
Tonto Dikeh may not be listening to her own relationship advice after all.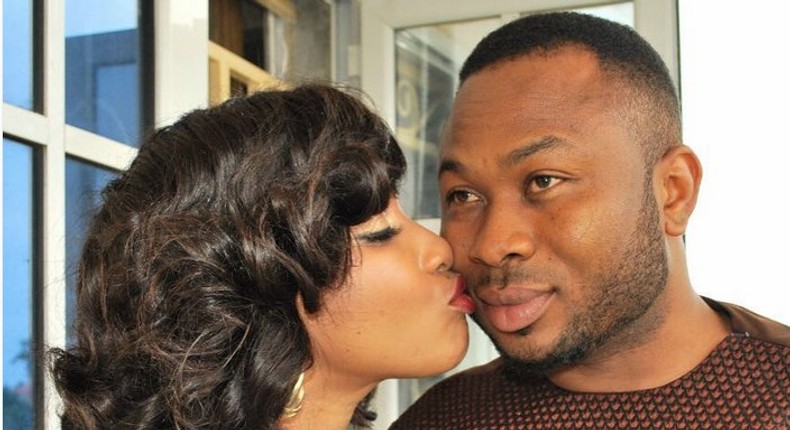 Then came the sweet posts on social media referring to this special someone in her life, her Mr X.
Nigerians burned with a mixture of envy and curiosity. An acrid mix that had them crawling all over social media in search of his true identity.
There was only one question in everyone's  mind.
How could someone so society contrary, loved and hated for the bad girl image she has courted for years which made fodder for gossip, become so lucky as to capture the heart of an obviously rich suitor who seemed to have the best intentions for her?
Some chose to console themselves with the thought that a leopard never loses its spots and Tonto would eventually blow this "golden opportunity" as she was wont to do.
Imagine the shock that rocked social media when they not only realised that Mr X was a savvy businessman and Philanthropist who was loaded to the teeth but was in the process of marrying the controversial Tonto Dikeh.
They still hoped with morbid glee, that this perfect life would fall apart but they were up for a rude awakening.
Then Tonto made the biggest blunder yet. She revealed Mr X to be Oladunni Churchill and all of a sudden, the mystery surrounding him, making him untouchable, almost surreal, melted away like mist under a scorching sun, and he was right there, standing naked for all to see.
Nigerians drank and drank, drowning in information that would soon become the ammo that will haunt Tonto for the rest of her life.
Life couldn't be better and Tonto's posts on social media reflected them. We soon began to believe that maybe, just maybe, she had eaten her cake but will get to keep it after all.
Shockingly, we woke up to see media blog reports about the crash of Tonto's marriage, and for a stunned moment, we were shaken awake from the fairytale we had woven around her.
Some accepted this news with stoic cynicism as if they had known this day was coming, while the true fans mourned what could have been.
As expected, different versions of the cause of their split began to fly around.
Seeing as Nigerians love to have an explanation for everything, they started with their feverish research, trying to discern the mystery surrounding the speculations that they knew would never be confirmed by the couple themselves.
At least, not immediately.
Soon enough, they zeroed in on Rose Muerer, Mr Churchill's Personal Assistant. She is hot, gorgeous and just had to be the culprit, what with her perfect nose and all.
Social media dragged their culprit, pouring on the insults, cyber stalking and bullying her, despite her disbelief and blunt denial of the accusations which she shared during an interview with Hip Tv.
Nigerians would only hear what they wanted, so the cyberstalking only increased and soon involved Churchill, as overzealous fans kept tabs on the businessman's whereabouts as well as Muerer's proximity to his location.
Reports later revealed that Meurer and Churchill happened to party at Club Quillox on the same night, only fed the gossips, with a fan going a step further to tag Tonto on an Instagram photo, accusing the pair of spending the night, "rocking together".
However, the Official Instagram page of Club Quillox, where the seemingly incriminating photos were shared, have since come out to reveal that Muerer and Churchill were at the club on different days, and that the other [photos making the rounds were photoshopped.
Next thing we know, some concluded that their marital issues just had to do with Tonto's verve for hard substances, even though she had done nothing in recent times to cause a speculation of relapse.
Knowing that even this proof would be trailed with further controversies, such as the authenticity of the result, we can only conclude that Tonto brought all this on herself.
She would have been better off if Mr X had remained a ghost.
JOIN OUR PULSE COMMUNITY!
Recommended articles
Senate to probe 2023 KCPE discrepancies before students join secondary school
Itumbi defends Raila-diehard Nuru Okang'a after his arrest
How SHIF contributions will affect unemployed & non-salaried Kenyans
Ruto announces free cash for 1.2 million borrowers on Hustler Fund [Qualifications]
Killers of Justice Effie Owuor's farm manager jailed
Police apprehend rogue conductor on Thika Road assaulting a female passenger [Video]
Woman accused of buying Sh500M houses in cash loses 35 units & Sh95M held in banks
Raila declares his stand on the National Dialogue Committee report
NYS announces UK job opportunities for its graduates [Requirements]