Kenyan couple spend N500 on wedding ceremony
The Muturas expressed surprise over the positive reaction their rather frugal wedding has garnered online.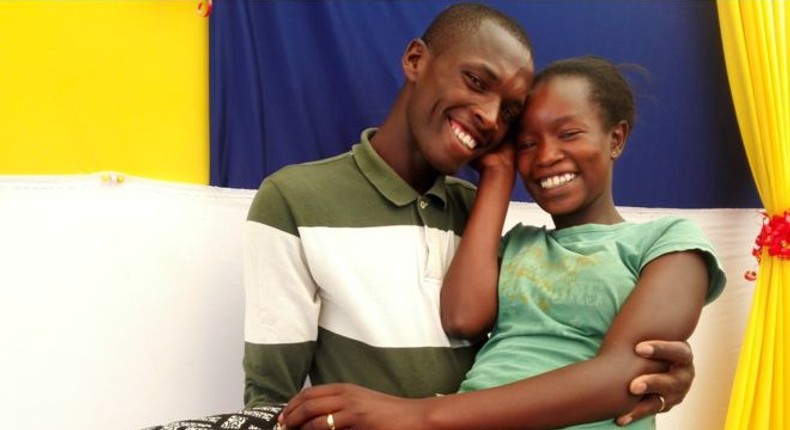 Never in Nigeria! A Kenyan couple heeded the words of our forefathers by cutting their coat according to their cloth.
Wilson, 27, and Ann Mutura, 24, have become viral sensations for their modesty, case in point, their $1 wedding which they attended in what we would refer to as 'house clothes'.
Instead of worrying over an expensive wedding, the pair found a way around their money problem and settled for far less than expected.
BBC reports that Wilson and Ann initially postponed their wedding twice in 2016 over their inability to raise the $300 (£240) fee.
Finally deciding to get married with the lowest budget available, Wilson spent only $1 on two budget wedding rings which still caused a cheer among the witnesses as the pair exchanged their vows.
Thankfully, other expenses such as the license fee, were settled by their church.
The couple has been hailed online for their brave move, with social media users noting just how expensive weddings have become in recent times.
After dating for three years, Wilson and Ann appealed to friends to help them raise some cash for their wedding, all to no avail.
Speaking with BBC, Wilson says that his older brother had advised him to live with Ann without the hassles of a wedding.
However, the fruit seller and his fiancee wanted much more and would not settle for anything less than "a permanent and blessed union".
"As a [Christian] couple, we wanted to marry and live with dignity in order to avoid other temptations," said Ann.
In the same vein, the pair settled for a very, very...... very low-key wedding ceremony which took place in Nairobi, without a wedding cake, flowers or decorations.
Dressed in jeans, T-shirts and trainers, their only assets, two shiny steel circles that served as wedding rings, Wilson and Ann had their dream come true.
Pastor Jasper Ojwach from the Community Christian worship center in Nairobi told the BBC that Wilson left the congregation shocked when he ran out of the church to buy the wedding rings.
Wilson received hearty cheers when he pulled out the rings from his pocket after the exchange of vows.
The couple has also expressed their surprise over the positive reaction their rather frugal wedding has garnered online.
"I believe money should not stop young people like us from getting married. If people love each other and want to marry they should," Ann said.
The Mutura's were celebrated so much so that they have received gifts from companies and individuals who were moved by their story.
The pair is reportedly leaving on their honeymoon very soon after a travel agency gifted them with a five-day break.
JOIN OUR PULSE COMMUNITY!
Recommended articles
James Wokabi wraps it up at Capital FM after 18 years
Atwoli outlines why MPs need hefty salaries and allowances
5 Killed in grisly accident along Nairobi-Mombasa highway
Ruto assembles 40 clergymen to cleanse State House before moving in
Rigathi Gachagua mourns elder brother with emotional message
Ruto instructs Gachagua to hold crisis meeting
Inside Ruto's busy schedule: Key engagements and 6 crucial meetings
Ruto: Why I appointed Uhuru peace envoy despite past political differences
DP Gachagua's 2 promises to Nyanza residents during Kisumu visit