Janet Wanja and her new Italian boyfriend get matching tattoos (Photo)
We are always told that getting matching tattoos or tattoos of your significant other is not advisable because you might break up and you have a constant reminder of your failed relationship etched on your skin.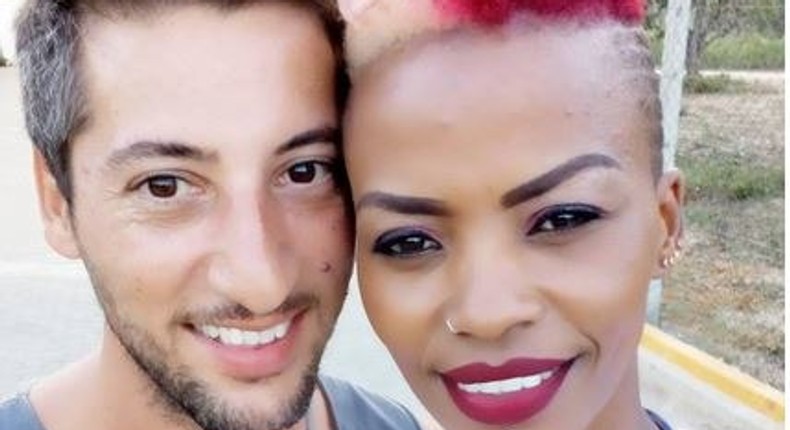 But people still do because after all Y.O.L.O!
Last year, Michelle Yola and Prezzo got tattoos of each other's names ahead of their wedding slated for the end of 2016. They were so hyped about it and clapped back at anyone who advised them against it, but the messy aftermath is proof that getting tattoos is not an advisable way of honouring your significant other. No matter how drunken in love you are with the love of your life tattooing their name on your skin is a bad idea, but to each his own.
Volleyball hottie Janet Wanja recently confirmed her relationship with Italian 'papi' Giulio Calauti and the gorgeous duo has become inseparable over the last few months, chronicling their fairy-tale-like relationship all over Instagram.
Now a few months after going public, they've already sealed their relationship by getting matching tattoos. The IT expert had a King's crown tattooed on his arm while Janet had a queen's tattoo on her arm.
" #queenandking #loveisabeautifulthing" read the caption.
More from category
France vs Poland: Holders vs Pretenders, who will take the glory?

Qatar 2022: Correct score and other sure betting tips on Argentina vs Australia

Cho-Sweet! Korea's 2-goal star vs Ghana Gue-Sung getting marriage proposals for being handsome
Recommended articles
France vs Poland: Holders vs Pretenders, who will take the glory?
Qatar 2022: Correct score and other sure betting tips on Argentina vs Australia
Cho-Sweet! Korea's 2-goal star vs Ghana Gue-Sung getting marriage proposals for being handsome
Pulse of The Day: Ghana Must Go... but not alone, Cameroon leaves Qatar 2022 on a HIGH
2 new records set in Cameroon's 1-0 victory against Brazil
World Cup Day 13 Live Blog - Cameroon vs Brazil, Serbia vs Switzerland
Qatar 2022: Super Hwang strokes Korea into the round of 16
Suarez hurts Ghana at the World Cup again as Uruguay beats Black Stars 2-0
Move aside Ronaldo, Bruno Fernandes is Portugal's new star