Watch Abel Kipsang smash Olympic Record after sprinting from second place [Video]
Kipsang sprinted from second place towards the end of the race and created a gap.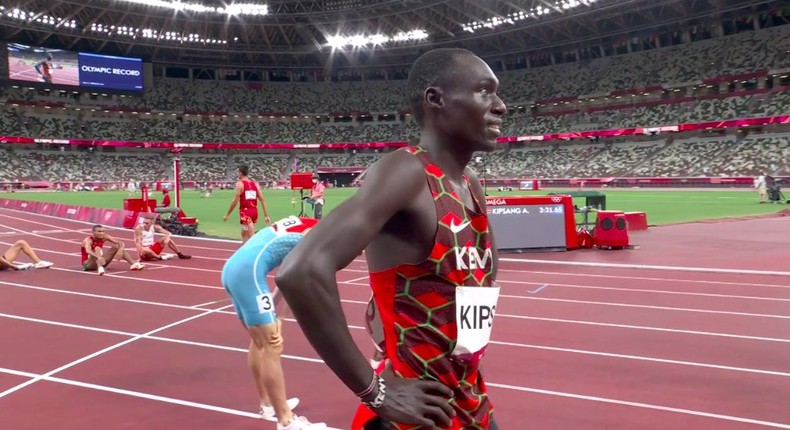 Kenya's Abel Kipsang has set a new Olympic Record of 3:31.65 in the 1500m semi-finals in Tokyo.
Kipsang will now join world champion Timothy Cheruiyot in the final at the Tokyo Games.
Kipsang sprinted from second position in the last round to emerge the top and creating a gap between first and second place.
All eyes will be on the new Olympics record holder as Kenyans cheer him on to beat his own record.
According to the Olympics schedule, the final has been set for Saturday, August 7, 2021.
Kenya's hopes in the Tokyo games have started looking promising after a few unsuccessful attempts to win medals.
Korir finished first in the men's 800m beating fellow Kenyan Ferguson Rotich.
This win brings to 4 the number of consecutive times Kenya has won the race in the Olympics.
The 26-year-old athlete, who is the sixth-fastest 800m runner of all time, stormed to the front to take an impressive gold ahead of teammate Ferguson Rotich (1:45.23).
The bronze medal went to Poland's Patryk Dobek who finished the race in 1:45.39. However, there was disappointment for Botswana's Nijel Amos - the fastest man in the world this year over 800m - who finished eighth in 1:46.41.
Korir took over the 800m champ stop from world record holder David Rudisha who withdrew from contention due to injury in May.
Congratulation messages started streaming in from Kenyans led by former Prime Minister Raila Odinga.
"Yes. What a tactical run and strong finish, congratulations Emmanuel Korir on winning the 800m Olympic Gold Medal and Ferguson Rotich on taking the Silver Medal. The Entire Nation is proud of you both, " he tweeted.
"Back to Kenya ! We retain Gold in 4 straight Olympic games in 800m men. Congratulations Emmanuel korir and Furguson Rotich," Rudisha posted.
"Congratulations Emmanuel Korir (Gold) Ferguson Rotich (Silver) in the Olympics men's 800m. You have brightened our gloomy faces and lightened our hearts," - Senator Kichumba Murkomen.
"There it is! Team Kenya's first Gold medal! Congratulations to Emmanuel Korir and Ferguson Rotich for a phenomenal 1-2 finish in the men's 800m at #Tokyo2020. You have made the nation happy," - Deputy President William Ruto.
More from category
Werner is the latest of Chelsea's 'unwanted 10' to depart but who are the others and what is their status?

'I'm terrible at goodbyes' - Serena Williams announces retirement in VOGUE's latest issue

2022/23 Season Preview: Juventus
Recommended articles
Werner is the latest of Chelsea's 'unwanted 10' to depart but who are the others and what is their status?
'I'm terrible at goodbyes' - Serena Williams announces retirement in VOGUE's latest issue
Emmanuel Dennis' manager reacts following Watford's 1-1 draw with West Brom
Former Man United striker becomes clubless as Inter Milan terminates his contract
AFCON winning coach slams Osimhen's club President for plans to sideline African players
Revealed: How Manchester United legend 'headbutted' his girlfriend at his £1.7million home