Here's 8 Crazy Things President Donald Trump MUST Do When He Visits Kenya
World leaders aren't quite sure of what to do with this Reality TV braggart who tweets like a child, rants like a teenager, scolds like a drunk and boasts like a fool.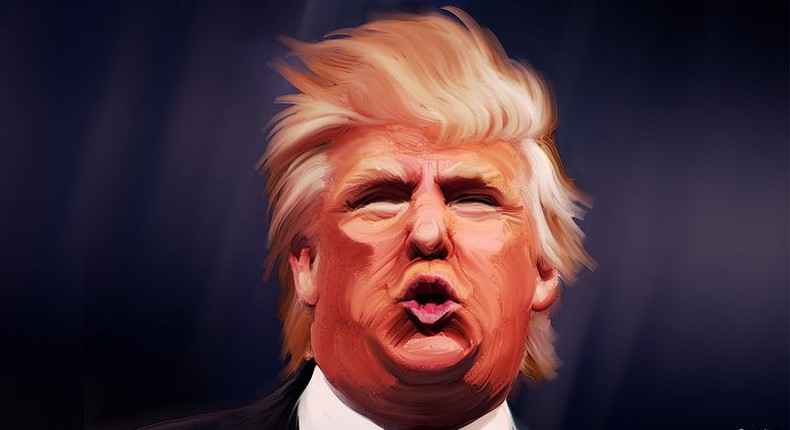 Congratulations America. Because of you, a mop-haired lunatic is now the Most Powerful Man on Earth.
Donald J Trump, a xenophobic, racist buffoon, is now the President of the United States of America. Also, the biggest tragedy of 2016.
But the show, as Celine Dion sings, must go on.
There's a lot to be done before the man finally settles in the White House and redecorates it in his most favorite tacky style, most outlandish colors and embosses it with the gaudiest Trump letters .
Also, there's a lot of crying and grumbling to be performed by the disgruntled Clinton supporters who just can't understand how one of the most viscerally inept dudes ended up sweeping the victory from under their girl's carpet.
But he's already President-elect and there's very little we can do now besides crying, packing, flying off to Canada, driving off a cliff and/or stabbing ourselves in the chest.
It's agreed. He's gonna be President and he's gonna start visiting other nations very soon to warm up to other people other than his flagrant supporters - and also, discover that there's actually other cultures, people and life outside of Trump Tower.
He might visit Kenya too. Not to strike up a business deal - which he'll eventually dishonor - but to just sit at a corner and laugh at what a sorry, messy place Barack Obama came from.
And as he prepares to visit Kenya, whenever that will be, he's gonna be up to some mischief. Definitely.
Here's 8 things Donald Trump Will do when He Visits Kenya
1. Grab the female attendants at JKIA inappropriately Kofi Olomide will not be the last visiting dignitary to pull of a messy stunt at the JKIA. Immediately he lands, Trump will be up to some action. The JKIA girls are quite stunning. We all know that. Also something else we know is that Trump loves a pretty little petite girl. He loves to play with them and flirt with them and wink and them. Occasionally, he grabs them by the pu**y. Some female JKIA attendant is about to get groped when Mr. Trump comes to town. He'll wink at her, compliment her uniform, touch her hands, admire her nail polish and then let his hands just grope around the ass or whichever juicy part he likes. It's his speciality.
2. Flirt With A Female Public Figure Trump will obviously have an extravagant dinner thrown for him at the State House. Bahati will be there. So will Sauti Sol and Suzanne Owiyo. And all of our female leaders will be there. Some of the sexiest Women Representatives will be there. And two hot female cabinet secretaries. Sauti Sol will ask Trump to join the stage for a dance. And that's the point at which he'll endlessly flirt with the most gorgeous female leader. He'll grab her and dance with her. He'll feel his way around her and compliment her shoes. A Daily Nation photographer will then be kicked out of the event for taking too many photos of Mr. President and Madam Waziri.
3. Go To XS Millionaires Trump is a dirty old man who loves partying and drinking and semi-nude girls dancing for him and bending their pretty little butts over so he can check out the juicy parts all he can. He likes a little naughtiness and getting drunk and silly while at it. Trump has notoriously hosted stripper parties in his plush residences for years. XS Millionaires does not only offer amazing semi-nude girls gliding down a pole, but also great positions to enjoy the garish show at. While drowning some expensive bottles of Krug Clos du Mesnil Blanc de Blancs. Trust Trump to show up at XS. And party the night away with Joe Muchiri and the noisy cast of Nairobi Diaries.
4. Argue With Larry MadowoTrump loves to roast TV stars and embarrass them in their own shows. Megyn Kelly is the perfect example. He'll show up at NTV at 9 for an interview. And then Larry Madowo will attempt to do what he does best - ramble on and on and on in an attempt to outshine his guest. But since Donald Trump is not Moses Kuria, Larry will have a hard time. He'll be roasted and silenced and forced to shut his little pie hole up for the rest of the interview. Donald don't do no stupid interviews. And Madowo will learn the hard way. The whole Nation Centre will feel the heat. Down to the entire Kimathi Street and a little bit of Mojos.
5. Tweet Robert Alai Robert Alai will be in his best behavior - tweeting the visiting @POTUS with many silly questions and links and crap. Robert loves the attention of the powerful. And that day, he'll get it. But not in a very nice way. Robert is used to winning local Twitter wars. (He has enough trophies in his little house to show for it.) But Robert will not stand the massive Twitter onslaught that Donald will direct towards him. Donald will finish Alai in one simple tweet. And Alai will deactivate his Twitter account to focus more on sugarcane farming. (And unlike Alai, The Donald can tweet at any time of the day. Or night.)
6. Buy The Times Tower. Or Muthaiga Golf Club. It's not a complete Donald Trump visit until there's a successful - but shady - business transaction. Donald has properties across America. And across the world. He has Golf Clubs and hotels and apartments in all the continents of the World. He probably has some property in your bedroom too. Just check carefully. Dude is worth over 5 billion dollars. That's more than enough to buy the Times Tower, Intercontinental Hotel, Lorno House, the entire Nyali Beach, Nyakundi's Twitter account, the Muthaiga Golf Club and Maina Kageni.
7. Visit the Delamare Family Racists love to check on each other. Racists love to gather and talk about the 1940's and the 1960's. Racists love to gather and curse the black man one more time. Racists are little, disgusting devils who love to catch up too. Like all people.
8. Visit Kogelo Why not? He'll visit Kogelo for two main reasons - to visit his equally-deranged buddy Malik Obama and share a plate of samaki ugali. And also, to see the little dead village that his predecessor Barack Obama originated from. And then he'll laugh and laugh and laugh. And then wonder how such a dirty, dusty hellhole produced an American President. He'll sneer at the locals and scoff at the dudes around the Lake Victoria. He'll enjoy seeing the ruins in which his foe and predecessor came from. And have enough propaganda material for his definite reelection in 2020. Sorry, Kanye West.
Our newsletter gives you access to a curated selection of the most important stories daily.
Recommended articles
Linet Toto excited as she unveils sleek ride after 1 month in office [Photos]
Africa's richest man Aliko Dangote poised to overtake another Russian billionaire Vladimir Lisin on Bloomberg billionaires list
Diwali 2022: Is Monday a public holiday in Kenya?
Mzee Kibor's will made public, revealing how vast wealth and millions will be distributed
Ini Edo posts new photos amid reports of welcoming a baby through surrogacy
Mathias Pogba brands Paul Pogba 'a so-called Muslim steeped in witchcraft' amid fetish claims about Kylian Mbappe
Referee behind chaos at AFCON was rushed to hospital after match
Ne-Yo speaks out after wife Crystal announced end of their 8-year marriage
Eddie Butita speaks on his fallout with Miss Mandi, offers her a job