TikTok boss reveals newest method Kenyans can use to make money from the platform
TikTok Africa boss lists 3 proven ways Kenyans can make money from the platform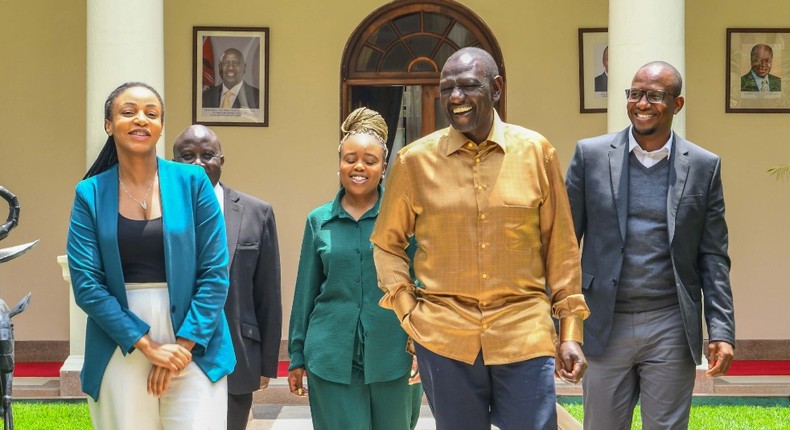 TikTok is a social media platform that has gained immense popularity globally, including in Kenya.
The platform is still relatively new, having been launched just five years ago. However, it has already hit one billion monthly active users globally.
In Africa, TikTok is focusing on South Africa, Kenya, and Nigeria, where there is a lot of creativity.
In a recent interview with Business Daily, TikTok Public Policy & Government Relations Director for SSA Fortune Mgwili-Sibanda said that there are 3 main ways Kenyan creators can make money from the platform, with a fourth one in the pipeline.
President William Ruto meets with TikTok officials at State House, Nairobi
TikTok Series
TikTok recently introduced a new monetization feature called Series, which allows creators to charge a set price for access to their premium, informative content.
"Another form of monetisation is the TikTok Series which went live in South Africa and Kenya two months ago. It allows creators to put some exclusive content behind a paywall and have people subscribe to it by paying a token subscription fee," he said.
With Series, creators can create, upload, price, and promote a collection of up to 80 videos up to 20 minutes each, all within TikTok.
To be eligible for Series, creators must meet certain requirements, including being 18 years of age or older, having an account that is at least 30 days old, posting original content, and having an account in good standing with no repeated violations of the Community Guidelines.
After making the first Series, creators can set their listing price between $0.99 and $189.99 USD. The Series will go through a Safety and Music review, and once it passes that, the audience will be able to purchase the Series via a video link or directly on the creator's profile.
President William Ruto meets with TikTok officials at State House, Nairobi Pulse Live Kenya
Brand Partnerships
Brand partnerships on TikTok refer to collaborations between brands and TikTok creators to promote a brand, product, or service.
For instance, Dennis Ombachi, the roaming chef, won the TikTok Africa Creator's Award in November 2022 and has had businesses pay him to feature them in his videos.
"If you publish good quality content, people will come to you so we've seen creators that are producing this very good quality content and they are starting to have relationships with Brands," the TikTok director said.
Live gifts
The third way is through gifting when you go live, which is another way of making money.
"There is gifting when you go live, which is another way of making money. For example, you can have a stand-up comedian go live, and people award him or her with a token.
"It could be a flower that can be converted into real money. But the critical thing is your content, which will drive an audience for you, and then money follows," he said.
To make money on TikTok, you need to create quality content that resonates with your audience. Kenyans are heavily consuming food, fitness, business talk, sports, especially football, stand-up comedy, and lifestyle content on TikTok.
TikTok has teams educating people on how to use the platform effectively, whether for business or to grow their brand.
The platform has also launched the African Content Hub program, where promising creators are picked and given tips on how to grow their brand and package their content to excite their users.
TikTok has community guidelines and features to ensure that minors are protected while using the platform.
The platform has 40,000 moderators globally who ensure that the content uploaded is in line with the community guidelines. TikTok is continuously improving its moderation systems to ensure that the platform is safe for all users.
JOIN OUR PULSE COMMUNITY!
Recommended articles
Ghanaian mogul Kwabena Adjei expands his liquor empire to Kenya
Africa is set to welcome the idea of borderless trade within the continent
Casa Vera Lounge penalised Sh1.8 million for sharing reveller's photo on social media
See what Kenya is using to attract investment from global EV firms
Kenya's best real estate websites: An in-depth comparison
Dangers of converting your car to run on cooking gas
Here are some key details of Ghana's 3 days protest
5 key responsibilities of KRA's military-trained tax assistants
Africa's food insecurity to be non-existent in the next 5 years - AfDB