Njeri Rionge, once among Africa's most successful women, dies [Biography]
Njeri Rionge biography: From founding Wananchi Group, Forbes recognition, joining suspicious religion & death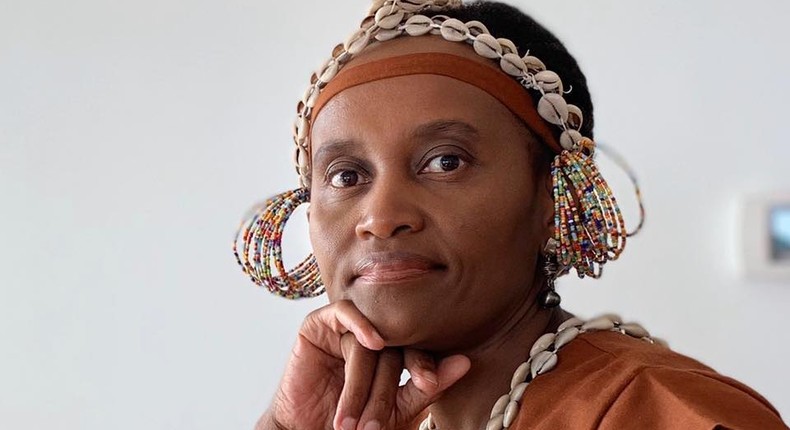 Njeri Rionge, one of Kenya's most successful and revered serial entrepreneurs, has passed away.
Rionge was known for co-founding multi-million dollar companies in quick succession, including East Africa's first mass-market internet service provider, Wananchi Group, which owns Zuku.
Former ICT Cabinet Secretary Joe Mucheru who once worked alongside Rionge at Wananchi Online, was the first to announce her death on X.
"Goodbye Njeri. We will miss you greatly," he said.
Not much has been revealed around her death but lets take a look at her journey from being featured among Africa's most successful women to her death.
Serial entrepreneur Njeri Rionge
Early Life and Education
Njeri Rionge was born as the first child in a family of five.
Her mother was a farmer who introduced her to the concept of buying and selling at an early age.
She started her first business at the age of 8 by selling yoghurt to her classmates.
She attended the International School of Kenya and Loretto Convent Musongari High School then later moved to Canada to study.
According to her LinkedIn profile, she holds a degree in Business Administration and Management from the United States International University
Career and entrepreneurship journey
According to various sources, Njeri Rionge's inspiration to become an entrepreneur came from her desire to create something new and to solve problems.
She saw opportunities where others saw challenges and was motivated to take risks and pursue her dreams. In an interview with Businessday NG, Njeri Rionge said that she was inspired by the idea of creating something new and innovative.
She also mentioned that she was motivated by the desire to solve problems and to make a difference in people's lives.
In addition, Njeri stated that she was driven by a strong work ethic and a willingness to take risks.
Serial entrepreneur Njeri Rionge Pulse Live Kenya
Companies founded by Njeri Rionge
Njeri Rionge has co-founded several successful companies, including:
Wananchi Online: a leading multi-million dollar internet service provider in East Africa.
Ignite Consulting: a business consultancy firm.
Insite Limited: a marketing and public relations firm.
Business Lounge: a co-working space for entrepreneurs.
Njeri Rionge Business Consulting Inc.: a business advisory and financial services firm
She also held key board positions, demonstrating her multifaceted involvement in influential organizations such as Unilever Tea (Brooke Bond Kenya), the Institute of Directors (Kenya), the Internet Corporation of Assigned Names and Numbers (ICANN), the East African Tea Trade Association (EATTA), Ambulance Air Rescue (AAR) Holdings, and Wananchi Group.
Serial entrepreneur Njeri Rionge Pulse Live Kenya
Awards and Recognition
Njeri Rionge has received numerous awards and recognition for her work. She was named one of Africa's most successful women by Forbes in 2011.
In 2012, she was awarded the Order of the Grand Warrior (OGW) by President Mwai Kibaki for her contribution to entrepreneurship and women's empowerment.
Newfound religion
From around 2021, Njeri took to social media to share intriguing details about her newfound spiritual journey.
However, what started as a personal revelation quickly stirred the curiosity of many, leading to widespread speculation and, in some circles, concerns about the nature of her chosen path.
Rionge's posts, filled with cryptic messages and symbols, sparked a flurry of discussions online, with some individuals expressing unease and even labeling the movement as a potential cult.
A screenshot from Njeri Rionge's Facebook page Pulse Live Kenya
JOIN OUR PULSE COMMUNITY!
Recommended articles
The better you are at your job, the more you should be worried about AI
Kenyan business owners can expect to partake of the World Bank's Sh7.7bn ($50 million) funding
Why some phones, electronics or car parts are designed to fail with time
5 African countries with the largest COP 28 delegation and their GDPs
COP 28: Here is a list of $4.48 billion deals Kenya has secured to develop green projects
China's oldest car firm (160 years) enters Kenya with 6 new models [Photos]
Africa accounted for 95% of malaria deaths worldwide in 2022 - WHO report
Top 5 largest economies in East Africa ranked
Biden plans trip to Angola, signalling renewed engagement with Africa