Let's be honest, relationships for the average, non-famous human are not the easiest thing around and they are infinitely harder when you are a celebrity.
Your relationship unfolds in the public eye, the public witnesses your highest point and is also there to watch when your relationship goes up in flames.
Having the public witness and comment on the crashing and burning of your relationship is bad enough and it gets worse when egos come into play with each party trying to outshine each other in the insults department to avoid looking like the 'loser'.
Today we look at some of the most dramatic breakups of 2018:
1. Diamond and Zari
Zari and Diamond had one of the most turbulent relationships in the continent. A relationship which met a crashing end on the day of love, 14th February 2018.
Taking to Instagram with the infamous black rose Zari announced their break up with a post that read "There have been multiple rumours some with evidence floating around in all sorts of media in regards to Diamond's constant cheating and sadly I have decided to end my relationship with Diamond, as my respect, integrity, dignity & well-being cannot be compromised.  We are separating as partners but not as parents."
Shortly after this breakup, the couple had some back and forth with Zari accusing Diamond of being a deadbeat and Diamond calling Zari a kima (Monkey) among other incidences. Thankfully, the two have impressively kept their animosity behind closed doors and things seem to have stabilized in the Zari and Diamond forte.
2. Hamisa Diamond
Hamisa and Diamond's troubled relationship hit fever pitch in September 2018.
This was after a number of voice notes of Hamisa Mobetto in a conversation with an alleged witch doctor went viral on social media.
In the voice notes, Hamisa Mobetto expresses her frustrations with a man she has been in love with for close to a decade who is always in and out of her life. She expressed that she wanted the help of the latter so that Diamond can finally settle down with her.
Upon getting hold of the voice notes, Diamond announced in the media that he was shocked to learn that his baby mama was planning malicious things behind his back and even confronted her about it. "Straight nilivyopata voice notes nikamtumia mhusika nikamwambia kile unachofanya si kizuri," Diamond told Wasafi TV.
After Diamond's comment, Hamisa disclosed that she was not talking to a witch doctor but to a religious leader.
This scandal seemingly marked the end of their relationship as Hamisa moved on swiftly following this mortifying incident and Diamond started dating Tanasha Donna.
3. Anerlisa and Don
The two seemed like a match made in heaven, Anerlisa the business mogul and Don the handsome, supportive and mysterious spouse.
But after months of flaunting their romance on social media and advising ladies on how to keep a man, Anerlisa deleted all photos of her new boyfriend on social media.
But that was not all, a few days later a saucy a story was leaked to The Star Newspaper. The paper reported that Anerlisa was having a steamy affair with a foreign lady who studies at one of the local campuses.
After this story broke, Anerlisa took to Instagram to fire shots at her 'bitter' ex-boyfriend who she claimed leaked the story. In a number of posts, Anerlisa claimed that his bedroom game was subpar and that she had a budget to sustain 'b*tch n*ggaz like him. Yikes!
4. Amber Ray
Kenyan Socialite Faith Makau aka Amber Ray unexpectedly announced her breakup with politician and city businessman Zaheer Merlahi Jhanda.
"I would like to inform you that I am no longer married to Zaheer Merlahi Jhanda and no one should link me to him or his family in whatever way," she said.
"It's about time I share with you this very important move in my life, which will also set some of you free because you have been waiting for this day for way too long and I do not want to continue holding you hostage. Feel free to keep the screenshots, keep em' receipts for future use," read part of her post.
5. Vera Sidika and Otile Brown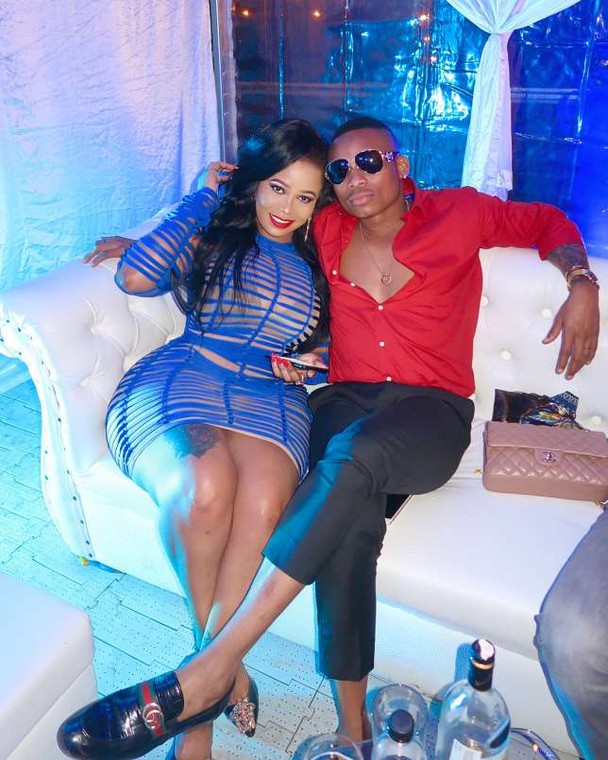 It wouldn't be a 'dramatic breakups' article without the crowd favourites Otile and Sidika. Their relationship played out like a Mexican Telenovela with each episode of their unbridled relationship injecting a burning desire to find out what our favourite couple was up to.
The couple got fans glued to their unlikely relationship on social media but their breakup was so dramatic it would put the best Telenovelas to shame.
There was drama, there was the airing of dirty laundry and things got so bad that celebrities had to intervene as the couple piled rocks into their sinking boat.
From money issues to bedroom problems, to cheating allegations and even a freaking hit song, the couple had Kenyans grabbing their popcorn and clutching their pearls from the very beginning to the end.
Also Read: Vera Sidika shares embarrassing details of her sexual history with Otile Brown (Screenshots)