Kennedy Rapudo heartbroken as son fails to show up for glamorous birthday
Unfortunately, the moment was 'once again' robbed from us because he was a no-show - Kennedy Rapudo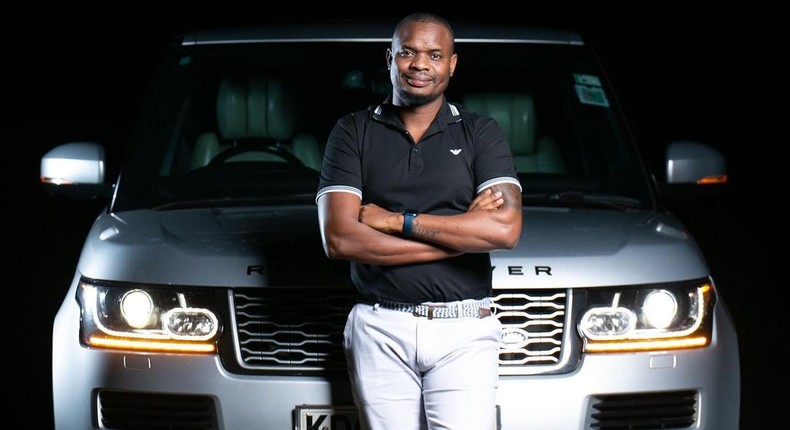 Kennedy Rapudo was left a disappointed man after his son failed to show up for his birthday party.
Rapudo who went out of his way to plan a glamorous birthday that oozed class and luxury took to social media to share the update.
He was however heartbroken after the eight-year-old failed to turn up for the lavish event.
He shared that he has been embroiled in a long legal battle without delving into the details.
He declared his love for his eight-year-old son and wished him a happy birthday.
"Not all absent dads are deadbeats, but just because we are not deadbeats doesn't mean that our hearts are metallic. I was eagerly looking forward to celebrating my son's 8th birthday today! This would be the first long weekend to have him for a sleepover (after a lengthy court battle), and you should have felt the joy in our hearts," Rapudo wrote.
He added that he felt robbed of the precious moment to celebrate, reiterating his commitment to keep fighting.
"Unfortunately, the moment was 'once again' robbed from us because he was a no-show! Every sacrifice, every tear, every missed celebration only amplifies the depth of our love. Keep fighting, keep believing, and most importantly, keep loving. Our children feel it, even from afar.#UnseenHeroes. To my son: Happy 8th birthday baby boy, I love you to the moon and back!"
Pulse Live Kenya
Reaching out to parents facing similar struggles he added:
"To those who walk the often silent path of longing, who choose stability even when it means sacrifice, I see you. Not every missed moment defines our love; our hearts tell the stories our words can't. Even in our absence, our love remains boundless."
The businessman recently welcomed his youngest child with socialite Amber Ray.
Recommended articles
'Sound of Freedom': Jim Caviesel's new movie is inspired by real-life experiences of an activist
Story behind Dennis Ombachi's tag name 'Roaming Chef'
King Kalala opens up about marriage & dreams of having 7 kids
Nicki Bigfish saves the day for man he intended to prank
Please be thorough with investigation into Mohbad's death - Banky W
YY Comedian's mum shares untold story of how he suffered burns 7 times
Diamond pleads with Chege to release songs after unexpected reunion on stage
Mercy Masika expresses concern about modern pastors' fashion & modesty
Philosophy Fena Gitu applies in bold fashion choices