Akorino model Pesh weds fiancé in colourful wedding [Photos]
Congratulations to the newly weds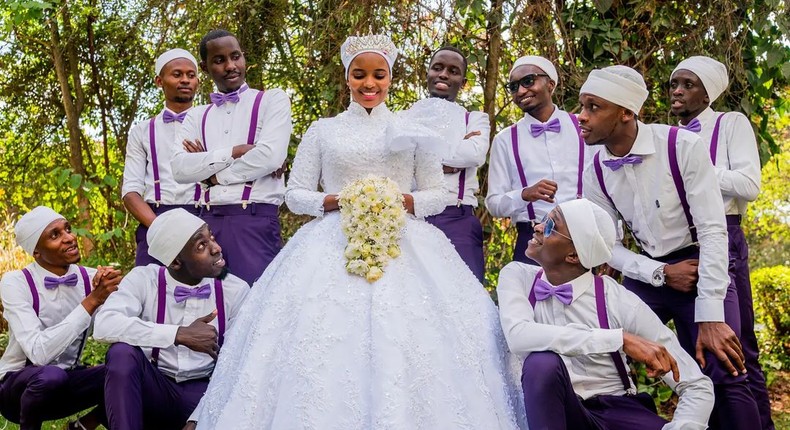 Pesh and Dan tied the knot in an exquisite wedding ceremony that was graced by their family and close friends.
Later on, Pesh took to social media to share moments captured from their lavish ceremony.
"What a lovely day it was ❤❤❤❤❤❤❤. ❤❤❤❤💖💕," shared Pesh.
Modest fashion Akorino model Peris Wanjiku alias Pesh weds Dan Magenda
The two love birds wedded days (October 12, 2021) after Dan went down on his pop the big question 'Will You Marry me'.
"Of course I said I DO 🥰🥰 with all this surprises, ningekata aje? Thanks to boo and @bonfireadventures for the surprise," shared Pesh after their engagement.
Pesh came into the limelight after she started sharing photos on Instagram flaunting her curvy figure in decent outfits.
Netizens fell in love with her beauty and branded her the hottest Akorino model in Kenya.
Photos from the white wedding
Modest fashion Akorino model Peris Wanjiku alias Pesh weds Dan Magenda Pulse Live Kenya
Modest fashion Akorino model Peris Wanjiku alias Pesh weds Dan Magenda Pulse Live Kenya
Modest fashion Akorino model Peris Wanjiku alias Pesh weds Dan Magenda Pulse Live Kenya
Modest fashion Akorino model Peris Wanjiku alias Pesh weds Dan Magenda Pulse Live Kenya
Modest fashion Akorino model Peris Wanjiku alias Pesh weds Dan Magenda Pulse Live Kenya
Modest fashion Akorino model Peris Wanjiku alias Pesh weds Dan Magenda Pulse Live Kenya
Modest fashion Akorino model Peris Wanjiku alias Pesh weds Dan Magenda Pulse Live Kenya
Modest fashion Akorino model Peris Wanjiku alias Pesh weds Dan Magenda Pulse Live Kenya
Modest fashion Akorino model Peris Wanjiku alias Pesh weds Dan Magenda Pulse Live Kenya
Modest fashion Akorino model Peris Wanjiku alias Pesh weds Dan Magenda Pulse Live Kenya
Modest fashion Akorino model Peris Wanjiku alias Pesh weds Dan Magenda Pulse Live Kenya
Modest fashion Akorino model Peris Wanjiku alias Pesh weds Dan Magenda Pulse Live Kenya
Modest fashion Akorino model Peris Wanjiku alias Pesh weds Dan Magenda Pulse Live Kenya
Recommended articles
WATCH: Brandy Maina & Okello Max team up to thrill fans in electrifying live performance
Meet Daudi Anguka: 'Pete' showrunner from Bondo & award-winning filmmaker
Muthoni Mukiri: How to successfully borrow money from your guy
Jalang'o forced to halt training with the National Assembly basketball team
Ex-Citizen TV anchor Kimani Mbugua gets Sh420,000 cash
'Sound of Freedom': Jim Caviesel's new movie is inspired by real-life experiences of an activist
Story behind Dennis Ombachi's tag name 'Roaming Chef'
King Kalala opens up about marriage & dreams of having 7 kids
Nicki Bigfish saves the day for man he intended to prank