Churchill show Comedian Nasra Yusuff weds longtime Boyfriend (Photos)
Nasra's husband is also a comedian on Churchill Show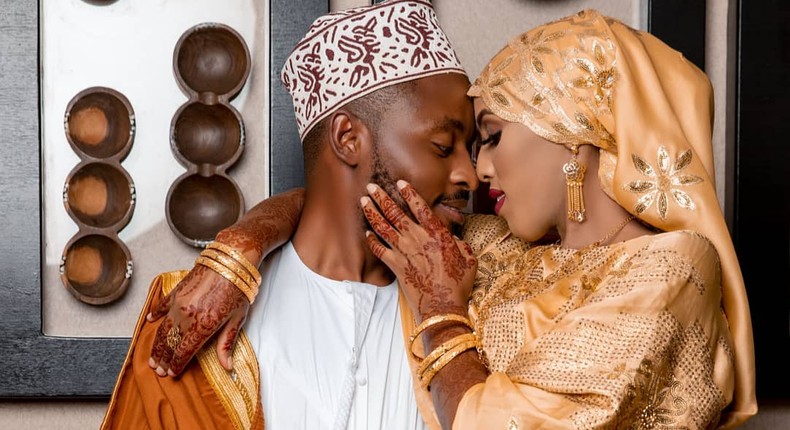 Churchill Show comedian Nasra Yusuff is officially off the market after wedding her longtime boyfriend and Fiancé identified as Rashid.
In an Instagram post, Nasra mentioned that she got married to her best friend (Rashid) on April 25, 2021. Rashid who has been dating Nasra for a while now is also a Comedian on Churchill show.
"Oh yeah guys,on the 25th of april 2021 I got married to my best friend!!!😍😍😍💕💕💕💕💕💕😍" shared Nasra Yusuff.
Churchill show's Nasra Yusuff weds longtime Boyfriend Rashid
On the other hand, a thankful Rashid wrote; 💖💖Huwa namshukuru Mungu siku zote kwa kunipatanisha na huyu malkia @nasrayusuff .... Moyo ulimkubali asilimia mia tena bila hofu yakuwa yeye tu ndio anafaa kuwa mke wangu.. ALHAMDULILLAH hiyo ilikuwa ndoto na sasa imetimia 🤲
Nakupenda sana mke wangu na naahidi kukutunza milele in sha Allah......
#Nasrashid sasa imeunganishwa kihalali hakuna wakutenganisha hii neema ya Allah
The two got engaged on February 18, 2021.
"I said yessssssssss to the love of my life.. my best friend!.. love you always @director_rashid" shared Nasra.
abelmutua "Aahh!!!! Napenda!!! Congratulations to you beautiful people"
Get our Top Stories delivered to your inbox
Recommended articles
Youthful MP Peter Salasya searching for a wife with these qualities
Ed Sheeran may have to pay $100m, if found guilty of plagiarising a song
Size 8 casts out demons from possessed girl in Kibwezi [Video]
Bahati is battling depression, Diana has called me twice-Ringtone
Jamal Rohosafi throws shade at ex-wife Amira with cryptic message
My twin - Diamond gushes over look-alike son[Photo]
Crossing boundaries! Diamond working on a song with Indian star [Details]
Nick Cannon welcomes his 10th child, weeks before his 11th is due
Abel Mutua 'fried' as Roast House closes curtains for Season 1