Comedian YY in tears as he narrates the struggles he went through with his mother & Alcoholic Dad (Video)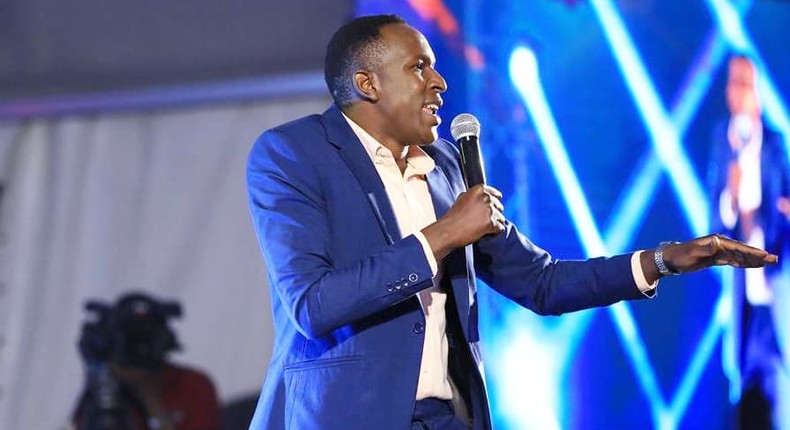 Churchill show comedian Oliver Otieno alias YY was overwhelmed by emotions while narrating the struggles he went through with his mother while growing up.
Appearing on the Journey Series With Churchill, YY revealed that growing up, life was hard and his childhood was full of physical abuse.
"…tulikuwa tunaishi nyumba ya matope na hii nyumba tulikuwa na dirisha za chuma likini hazikuwa na vioo…I was not that of undisciplined child but I was very knotty. But really wanted to get my mother out of that situation. It's a situation that I would not wish any child, mother or father to be living in.
When I was in high school I experienced a lot of physical abuse and this also influenced who I am today… for the physical abuse, I have never forgotten the things that I went through, I have actually forgotten some of the good things that happened to me but not the abuse I went through…" said a crying YY.
The funnyman also went on to advise single mothers against moving to the village once their husbands pass on.
"I want to advise single mothers out there, if you have a job in the city and then you lose your husband, don't go back to the village, because you will be told to go back. Usiwache ile biashara ama kazi unafanya uende kuanza Zero kwa village... because you are going to put your children into so much, because you want to pleasure the village…I believe so much that if my mother continued with her business in Nairobi there are things labda singepitia. Tumelala njaa, tumepitia a lot and all this is because she stopped what she was doing because she was told don't go back to the city," narrated YY.
YY Comedian Pulse Live Kenya
During the interview, YY also mentioned that his late father was an alcoholic and very abusive to his mother and that's why he swore never to drink alcohol in his life.
"I was raised in Nairobi for 8 years until my Dad passed on when I was in Standard 3. My dad was actually an alcoholic and he used to beat my Mum sana. So I wanted really to protect my mother, so most of the time akipiga nilikuwa naingia hapo katika, to intervene. And this changed and tats one of the reason mimi mpaka sai sikunywangi because I did not want to be like my father in that specific regard. My dad was a great person in all other aspects and that's why nilichukua jina yake nikaanza kutumia kwa usanii. But that aspect of kuwa drunkard ilinichange sana as for who I am today" said YY.
Get our Top Stories delivered to your inbox
Recommended articles
List of entertainment joints whose licenses have been revoked
Kamene Goro speaks after reports of holding secret wedding [video]
Which lie? - Nasra Yusuf responds after Sh59K breakfast bill went viral
Madini Classic breaks silence on breakup during Pritty Vishy's birthday
Nonini invites fans for 40th birthday bash in Dallas
DJ Mo surprises wife in Kibwezi [Video]
Youthful MP Peter Salasya searching for a wife with these qualities
Ed Sheeran may have to pay $100m, if found guilty of plagiarising a song
Size 8 casts out demons from possessed girl in Kibwezi [Video]