Kenyan TV anchor quits Sky News after 7 years for new adventure
With over 20 years of experience in broadcasting, Kimberley Leonard has become a respected figure in the industry.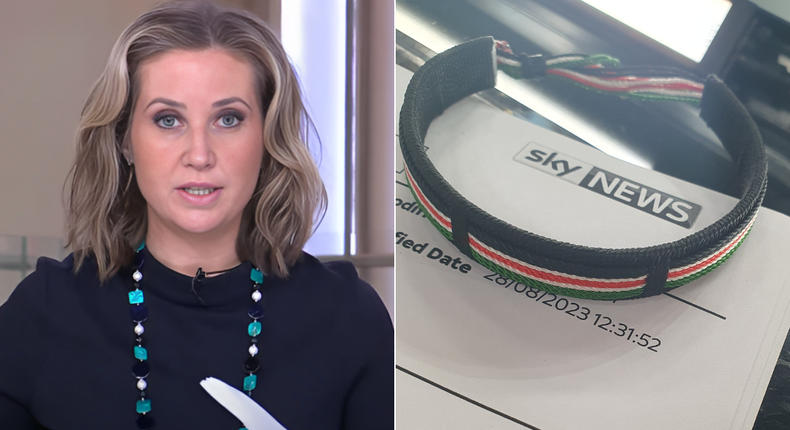 Kenyan Sky News TV anchor Kimberley Leonard has officially left the station after an impressive 7-year stint.
Kimberly, hosted her last show on Monday, August 28, after teasing her exit from the station.
On her last days at the station, she told her fans that she would be announcing her new adventure soon.
The news presenter also paid homage to her home country Kenya by sharing a photo of a symbolic wristband with the national colours, and the caption "Tell them we were here".
TV anchor Kimberley Leonard
The news anchor had a busy last shift after she broke news that Britain's National Air Traffic Service (NATS) experienced a technical issue that led to restrictions on the flow of aircraft, causing delays and cancellations across Europe.
"Can you imagine - a breaking aviation story for my last shift!" she remarked.
Kimberly reported that passengers were stuck on planes on the tarmac, and airports and airlines worked to minimize the impact on travellers.
The issue affected flights travelling to, from, or through UK airspace, resulting in significant delays.
Her fans and colleagues took to X (formerly Twitter) to congratulate the news anchor for her impressive career.
"Sad to see the very talented Kimberley Leo leaving Sky News. Going out on a day of breaking news of near-chaos in the air and chaos over sexism in Spanish football. Nenda kwa amani na bahati mzuri," said her Kenyan former colleague Anwar Tambe.
TV anchor Kimberley Leonard Pulse Live Kenya
Kimberley Leonard's career growth
With over 20 years of experience in broadcasting, Leonard has become a respected figure in the industry.
Born and raised in Nairobi's Lang'ata estate, Leonard's journey to international success in news and media has been paved with hard work, determination, and patience.
She started her career as an Assistant Producer for Al Jazeera English in Nairobi, Kenya, where she interned for five months.
Leonard's passion for storytelling and expertise in producing, presenting, writing, and researching news and features have made her a valuable asset to Sky News.
As a World News anchor, she brings more than 15 years of international experience to her role, which includes working as a news reporter.
Despite her success in the United Kingdom, Leonard remains proud of her Kenyan roots.
Her upbringing in Nairobi has shaped her perspective and influenced her career in journalism. Leonard's journey from Nairobi to London serves as an inspiration to aspiring journalists in Kenya and beyond.
As a Sky News presenter, Leonard continues to make waves in the media industry. Her professionalism, dedication, and storytelling skills have earned her a reputation as a trusted news anchor.
Recommended articles
Shusho fire subsides as Kenyan fans demand answers from Muhando on conning allegations
Clemo reveals root cause of conflict with Nonini following Sh1M court award
Viral Kenyan nanny Rosie finally speaks about relationship with Lebanese employer
Social media erupts as pastor narrates 3 instances resurrecting his mother
Pastor Ng'ang'a's eldest daughter pleads for financial help to cover son's treatment
I was cancelled for saying Ghana influenced Nigerian music – Mr Eazi
Cardi B says she's outgrowing relationships, unfollows husband Offset
If there's a video of us saying she's single, please share - Terence Creative
What sparked Eve Mungai's fiery reaction after Commentator 254's baby news