KTN's Jamal Gaddafi and wife welcome baby number 3 [photos]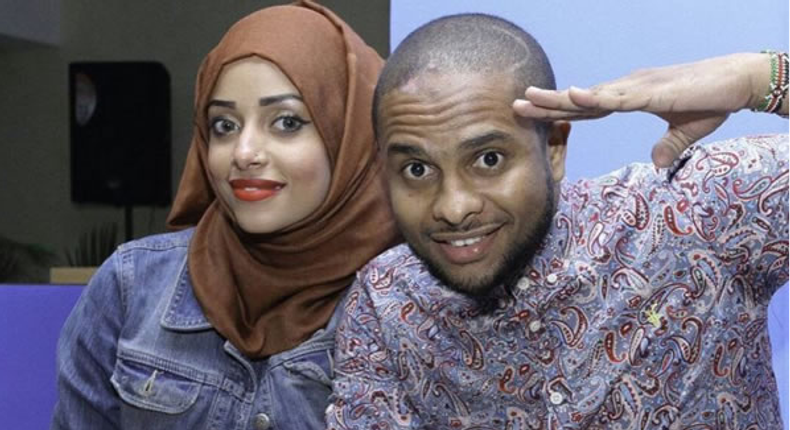 KTN presenter Jamal Gaddafi has announced the birth of his third child on Tuesday, November 2.
In a post on his Instagram page, he said that his son would be named King Emaad.
"𝐈 𝐚𝐦 𝐝𝐞𝐥𝐢𝐠𝐡𝐭𝐞𝐝 𝐭𝐨 𝐚𝐧𝐧𝐨𝐮𝐧𝐜𝐞 𝐭𝐡𝐚𝐭 𝐨𝐮𝐫 𝐩𝐫𝐞𝐜𝐢𝐨𝐮𝐬 𝐥𝐢𝐭𝐭𝐥𝐞 𝐤𝐢𝐧𝐠 𝐄𝐌𝐀𝐀𝐃, 𝐚𝐧𝐝 𝐦𝐢𝐫𝐚𝐜𝐥𝐞 𝐚𝐫𝐫𝐢𝐯𝐞𝐝 𝐰𝐞𝐥𝐥 𝐚𝐧𝐝 𝐢𝐧 𝐠𝐨𝐨𝐝 𝐡𝐞𝐚𝐥𝐭𝐡. 𝐀𝐥𝐡𝐚𝐦𝐝𝐮𝐥𝐢𝐥𝐥𝐚𝐡.
"𝐀𝐥𝐥𝐚𝐡 𝐚𝐦𝐣𝐚𝐥𝐢𝐲𝐞 𝐚𝐰𝐞 𝐦𝐭𝐨𝐭𝐨 𝐦𝐰𝐞𝐧𝐲𝐞 𝐤𝐮𝐟𝐮𝐚𝐭𝐚 𝐦𝐚𝐚𝐝𝐢𝐥𝐢 𝐲𝐚 𝐊𝐢𝐢𝐬𝐥𝐚𝐦 𝐧𝐚 𝐭𝐰𝐚𝐚 𝐤𝐰𝐚 𝐰𝐚𝐳𝐞𝐞, 𝐡𝐚𝐰𝐞 𝐦𝐭𝐨𝐭𝐨 𝐦𝐰𝐞𝐦𝐚 𝐦𝐰𝐞𝐧𝐲𝐞 𝐚𝐤𝐢𝐥𝐢, 𝐡𝐞𝐤𝐢𝐦𝐚 𝐧𝐚 𝐛𝐮𝐬𝐚𝐫𝐚, 𝐲𝐞𝐲𝐞 𝐧𝐚 𝐰𝐚𝐭𝐨𝐭𝐨 𝐰𝐨𝐭𝐞 𝐲𝐚𝐚𝐫𝐚𝐛," he said, joking that Chelsea just got a new fan.
Gaddafi and his wife Ahlam Faysal were blessed with a baby girl two years ago whom she named Mayra Jamal. His first son is called Prince Eyaad and was born in 2016.
Jamal met his wife through a social media app called Snapchat where he was attracted by her photos and videos.
He slide into her DMs but she 'left him on read' until they accidentally met at Jamia Mosque.
"I noticed how she was beautiful and commented on her pictures, and also messaged her. She ignored me though.
"It was when she responded via Snapchat saying how nice it was meeting, that I remembered her, and as they say, the rest is history," Jamal revealed
Recommended articles
Inooro TV presenter marks 7 years in media in a splendid way
Mbusi heaps praises on wife with cute message as she celebrates birthday
Sanaipei, Abel Mutua and Phillip Karanja shine at 2022 Kalasha Awards [Full list of winners]
NTV's Lofty Matambo, Fridah Mwaka named 2022 journalists of the year
NTV unveils new anchor days after sacking Mark Masai in ongoing restructuring
Raquel Muigai wins award for election feature story aired on Citizen TV
Arap Uria finally meets Peter Drury in Qatar after viral plea [Photos]
Thee Pluto excited as he graduates and reveals the challenges he overcame
YouTube names Thee Pluto & Pastor Ezekiel among top content creators in Kenya [List]