Njugush takes a Jibe at gov't for ignoring Team Kenya upon return from Tokyo
Kenyans are not happy with how team Kenya was received last Night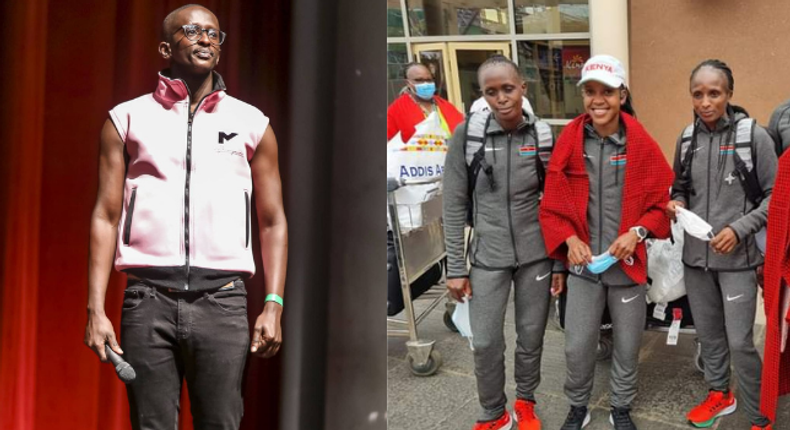 In a post, Njugush took a jibe at the government and other political leaders, by ironically celebrating them for 'representing' the country well at the 2020 Tokyo Olympics.
"This pic represents our champions. Thank you our Athletes for making us as a country proud!!! We had other important things to do but we stopped everything to welcome you back. We gave you heros welcome. We gave you up to standard facilities to train Pre Olympics.You might have gotten heftier offers from other countries but you choose Kenya. You Guys here are our hope. Guys a word of encouragement to these Athletes here ...ni mmoja anamiss nikama ndio amewashikia medals wapigwe picha" reads Njugush's caption on photo of President Uhuru Kenyatta and other political leaders.
In a separate Post the funnyman celebrated Team Kenya, stating that they deserve a heroic welcome but the government opted to ignore them.
"Well done the real MVPs who represented and always represents this country when called upon!!!!" wrote Njugush.
On Wednesday, Kenyans On Twitter (KOT) expressed discontentment in the manner which team Kenya was received, despite their stellar performance and emerging the best in Africa. Their efforts went uncelebrated by the Kenyan government.
Many argued that the team was not received with the same energy they were flagged off with.
Photos of Kenya's Olympics champs quietly jetting in have been doing rounds on social media while in neighbouring Uganda, the athletes were received by a convoy of vehicles ordered by President Yoweri Museveni.
As that is not a enough, Kenyans also woke up to a sponsored hashtag #AsanteCSAmina, which has been described as a mockery to the athletes who represented the country in Tokyo and got ignored upon returning home.
Recommended articles
If there's a video of us saying she's single, please share - Terence Creative
What sparked Eve Mungai's fiery reaction after Commentator 254's baby news
Wakadinali's Domani Munga takes a break due to health issues
Amapiano is just a rebranded version of Ghana's Azonto – Samini
New animated film JESUS (2025) set to break ground in more than 2000 languages
Christina Shusho's Biography: Early life, start of music career, husband & 3 kids
'Twa Twa' Pastor explains reasons parents should not kiss their children
WaJesus family commemorates 6th anniversary with exclusive love series
Mbogi Genje's Smady Tings finally reacts to Jacky Vike's open crush on him