No Chills! Socialite Amber Ray claps back at fan who accused her of being a prostitute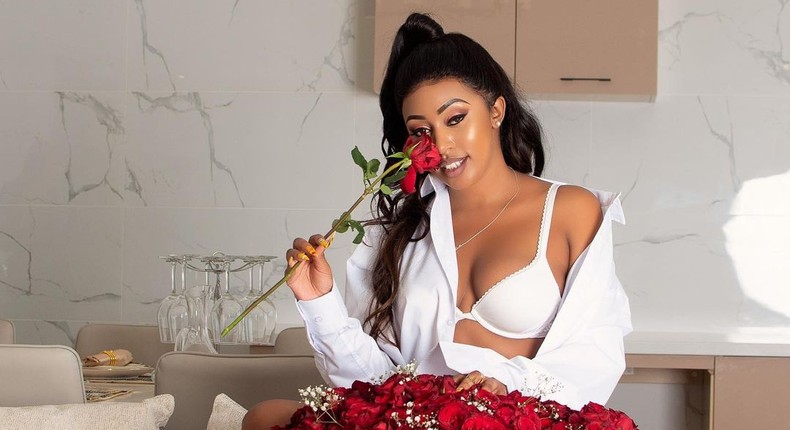 Socialite Faith Makau aka Amber Ray has clapped back at a fan who tried to attack her with allegations of being a prostitute.
In a Q&A session via her insta-stories, a curious fan reached out to Amber, alleging that she sells her body, demanding to know the reason behind it.
"Mbona uliamua kuuzanga pudesh" asked the fan.
A fed-up Amber Ray opted to play along with the fans, saying; "Ni yangu, ni safi, ni tamu, haija complain, wateja ni wengi, haiishi, haichagui".
Socialite Faith Makau aka Amber Ray
In another separate response, when asked why she was dumped by her ex-politician Hubby Zaheer Jhanda, Ms Makau stated that she is the one who ended the relationship.
"Have you ever been depressed after baby daddy left? How did you deal with it? Asked another fan.
She responded "I left him. nikatesa nikazea. nikaona sijakufa nikaamua kumove on."
Being in the limelight, Amber Ray's life has been rocked with a fair share of controversy, just the other day she was forced to defend herself over witchcraft allegations
A fan sought to find out if it's true that the curvaceous socialite used witchcraft to get her ex-hubby Zaheer Jhanda.
Socialite Faith Makau aka Amber Ray Pulse Live Kenya
"Why do you use Witchcraft" asked the fan.
Ray replied with an affirmation that she has never used witchcraft in her life and very soon she will give an explanation to her photo that is always associated with witchcraft.
"I know it's hard to believe this but I have never used witchcraft in my entire life… anyway, one day I will tell my side of the story. You all better be ready" reads Amber Ray's response.
Amber Ray was first accused of using witchcraft by Aaliyah Zaheer, her former co-wife.
Socialite Faith Makau aka Amber Ray Pulse Live Kenya
Her photo holding two chickens, one black and white, and covered from head to toe in a strange piece of white cloth went viral some years back leaving many with question of whether she was using witchcraft to keep her then husband.
Get our Top Stories delivered to your inbox
Recommended articles
Madini Classic breaks silence on breakup during Pritty Vishy's birthday
Nonini invites fans for 40th birthday bash in Dallas
DJ Mo surprises wife in Kibwezi [Video]
Youthful MP Peter Salasya searching for a wife with these qualities
Ed Sheeran may have to pay $100m, if found guilty of plagiarising a song
Size 8 casts out demons from possessed girl in Kibwezi [Video]
Bahati is battling depression, Diana has called me twice-Ringtone
Jamal Rohosafi throws shade at ex-wife Amira with cryptic message
My twin - Diamond gushes over look-alike son[Photo]