Sauti Sol announces dates for their upcoming concert 'Sol Fest'
The awarding-winning group made the announcement during their launch of 'Hustle Sasa'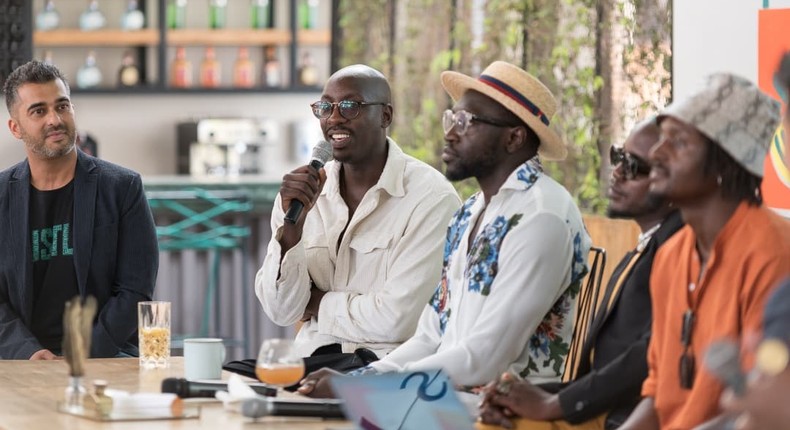 Kenyan boy band Sauti Sol have officially announced dates for their upcoming concert dubbed 'Sol Fest'.
"We gonna have a number of bald men concerts this December … but allow me to say this now that the whole of Sauti Sol is here, on the 11 and 12 of December we are having Sol Fest which is festival. This is a festival put together by Sol Generation Records and this will be the first time we will be playing Midnight Train, live on stage in Kenya. We are all looking forward to it.
"Also Aaron Rimbui and I are having a series of concerts for the 'Bald Men Love better' project and we are looking forward to seeing you there," Sauti Sol's lead vocalist Bien-Aime said.
Speaking on the future of Sauti Sol following the launch of the members' solo careers, the self-proclaimed leader of bald men in Kenya said that another album was in the offing, with the songs already recorded.
The group made the announcement dung the launch of 'Hustle Sasa' a mobile app aimed at connecting creatives with their diehard fans as they make money in the process.
On Wednesday, Hustle which is the first mobile platform designed for the creative economy in Kenya, announced Sauti Sol as their co-founders.
The platform which enables creators to sell directly to their audiences and get paid instantly aims at empowering over 100,000 creatives across Africa by 2025.
The mobile app is a central hub for creatives to manage the entirety of their business from creating storefronts, adding physical and digital products, recording orders and accepting payments.
Creatives can share unique link with their audiences on social and messages platforms and start earning from their fans immediately.
Sauti Sol Pulse Live Kenya
"We are building mobiles-first tools to empower creators to grow their business, build relationships with their fans and manage their finances. We are excited that Sauti Sol has joined our team. Their success as artists and passion for the creative industry aligns perfectly with our mission" said CMO Rizz Jiwani.
Sauti Sol is a Grammy certified music group which started their career over a decade ago and their experience in the local and global creative industry helped shape the hustle platform.
"We want it to be a creative's best friend that can cater to all of their business needs.
"You can visit my site at bienaime.hustlesasa.shop and purchase my merchandise, album and a special NTF form newly released EP ' Bald men love better' . This is the future and we are excited to this journey together," said Bien.
In addition to Sauti Sol, Hustle is currently powering commerce for creatives in music such as; H_art the Band, Harry Kimani, Yaba, and Ssaru and they were all present during the launch.
Sauti Sol Pulse Live Kenya
Sauti Sol Pulse Live Kenya
Sauti Sol Pulse Live Kenya
Recommended articles
Radio presenter Nazizi Hirji quits Vybz Radio
10 most promising East African musicians in 2023 [Spotify List]
DJ Lyta shows off his new ride [Video]
I thought it'd get easier, but it doesn't - Martin Kasavuli posts on late mom's account
Daddy Owen drops new music video after 1-year hiatus [Watch]
Amber Ray excites fans with video of growing baby bump
Shaffie Weru makes media comeback with new show [Video]
Actress Jacky Vike lands brand ambassadorial job
Kevin Mboya reveals details of Kwale trip that left him heartbroken