Zari talks 'white wedding' with Shakib, respect for Diamond during Tanzania trip
Zari appeared candid as she talked about her baby daddy Diamond Platnumz and plans to hold a wedding ceremony with her husband, Shakib Lutaaya.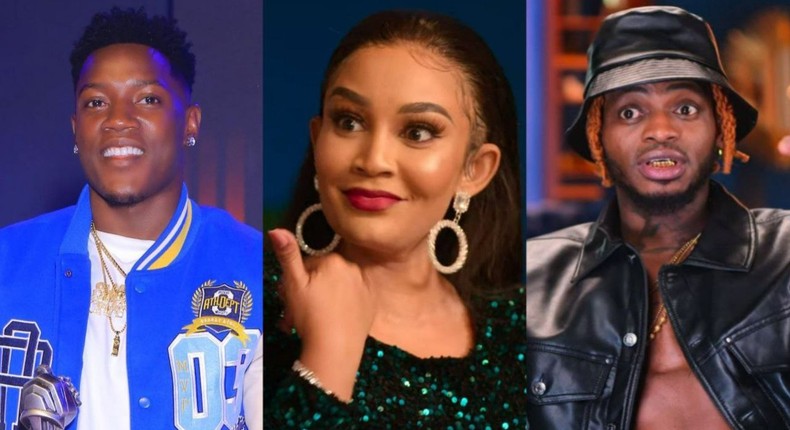 Zari and Platnumz had discussed having another kid through surrogacy, but she claimed shock after learning that Platnumz had shared that information with the Ghanaian songstress.
Zari felt Platnumz was using her name to impress women.
To some, even Fantana herself, Zari appeared jealous of her getting close to Platnumz.
Speaking to the media during her recent trip to Tanzania, Zari insisted she wasn't jealous rather she was disappointed in Diamond Platnumz whom she holds in high regard for not respecting their privacy.
"I was not jealous of that girl... if you guys know, I respect him so much. He is the father of my kids. We are always going to have this relationship," she said.
Zari and Platnumz were together for about four years and they share two kids together, a boy and a girl.
Fantana and Platnumz are portrayed in the Netflix-produced series as being romantically involved.
Zari further said: "... my problem is with my baby daddy Diamond, sitting with another woman discussing me... if you sit and discuss me and give the other person the confidence to abuse me that is where you cross the line."
Meanwhile, Zari said she and Lutaaya could hold a wedding ceremony that'll be public by the end of this year.
"This thing was between me and him... God willing at some time, maybe end of this year, then we can have our white wedding," she said.
Shakib Lutaaya gave Zari a Quran as her bride price. She said it's only what she wanted because she's got all her financial needs covered right now and she is now focusing on building her faith as a Muslim.
Recommended articles
4 things to know about 60-year-old arrested for Tupac's murder
Fireworks as Arap Uria takes to social media with placard & gift for Peter Drury
Njoki Chege makes comeback to media with appointment to serve as CEO
Fans did not like how Zzero Sufuri was interviewed on 10/10, here's why
Meet the Rwandese man who has clinched date with Vera Sidika after her breakup
How Editi Effiong delivered a global hit with 'The Black Book' [Exclusive]
Nigerian producer Hitsound kicks off attempt to set new Guinness World Record
'Manifest is a better rapper than Sarkodie' – Samini
Alikiba embroiled in controversy as alleged ex-mistress accuses him of exploitation