Fast and Furious fans to be treated to all 7 movies ahead of Fast 8 premiere
Fast and Furious fans will be treated to all the seven Fast and Furious movies (1-7) from tomorrow, Saturday 1 April to Sunday 9 April, ahead of the Fast-8 release in mid-April.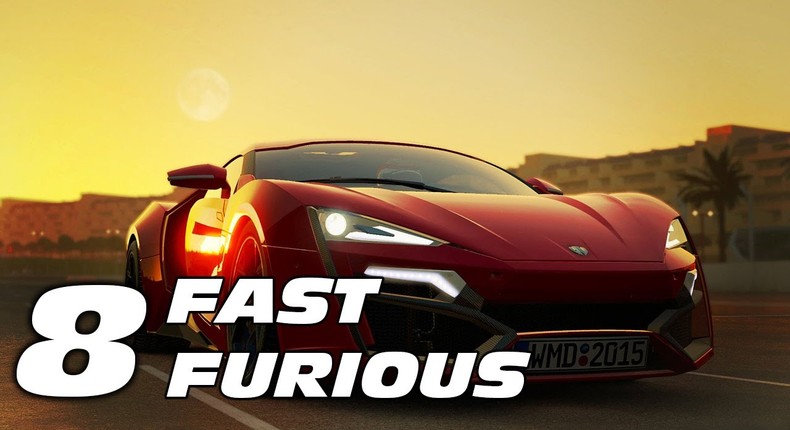 M-Net and MultiChoice are putting peddle to the metal with a special
The M-Net Movies Fast & Furious Pop-up channel is a special treat for MultiChoice's DStv Premium customers, just days before the much-anticipated film premiere of Fast 8 - starring Vin Diesel, Jason Statham and Charlize Theron - which will be released in cinemas worldwide.  The channel will also be streamed on DStv Now and all seven films will be available on the M-Net Movies Collection on Catch Up Plus, which can be accessed via the DStv Wifi Connector.
"MultiChoice always puts customers at the heart of everything it does. We promised to bring viewers the best in the entertainment world and that is what we are doing. The M-Net Movies Fast & Furious pop-up has been timed to feed into the frenzy around the latest edition in the franchise and also coincides with exciting changes on the M-Net channels. April is indeed going to be a super-sized month on the M-Net front," says MultiChoice East Africa Commercial General Manager, Kenneth Oyolla.
The M-Net Movies Fast & Furious channel will run daily from 10:00 with back-to-back Fast films until around 22:30 CAT. Do note however, that the channel will conclude on 9 April with a binge-viewing session, with all seven films running in chronological order.
Full summaries of the movies:
Cast: Vin Diesel, Paul Walker, Michelle Rodriguez, Jordana Brewster
Genres: Action, Crime, Thriller.
A pulsating high-speed action drama that launched the popular film series and rebooted the careers of Vin Diesel and Paul Walker. It was a runaway success at the box office and, rare for the genre, attracted praise from many top American critics.
Brian O'Conner is an undercover cop on a dangerous mission: He must capture Dominic Toretto, an elusive street racer and truck hijacker on a mission to steal electronic equipment worth millions of dollars. Torretto is fearless and violence is his first resort.
Cast: Paul Walker, Tyrese Gibson, Cole Hauser
Genres: Action, Crime, Thriller
Crime and speed are again the main ingredients of a winning recipe in the second instalment of a hugely successful action drama series. One might say the modified Nissan Skyline GT-R and Honda RS200 deserved top billing alongside the actors in the leading roles!
A street racer finds himself behind bars after competing in a dangerous and illegal race. Then, to his surprise, an FBI agent makes him an irresistible offer: his freedom in exchange for help in bringing down an elusive crime kingpin.
Fast and The Furious: Tokyo Drift
Cast: Lucas Black, Zachery Ty Bryan, Shad Moss
Neither the speed nor the fury has flagged in a thrilling action film series that has so far yielded eight instalments. In the series timeline, Tokyo Drift slots in between the sixth and seventh movies.
An American teenager who causes an accident during an illegal street race is sent to live with his father in Japan to avoid copping a prison sentence. In Tokyo he learns an exhilarating style of street racing: wilder and much more dangerous than the Los Angeles variety.
Fast & Furious (Fast and Furious 4)
Cast: Vin Diesel, Paul Walker, Michelle Rodriguez
Genres: Action, Crime, Thriller.
The action heats up in the fourth instalment of a film franchise that has become the favourite of speed freaks the world over. Car chases like you've never seen before! Deadly crashes are a single error of judgment away.
The FBI has recruited Brian O'Conner for a second stint as law enforcer, mainly for his in-depth understanding of the underworld. He teams up with Dominic Toretto to infiltrate and destroy a ruthless drug ring.
Cast: Vin Diesel, Paul Walker, Jordana Brewster
The fifth instalment, regarded by some critics as the best, steered the Fast and Furious film franchise in a new, more lucrative direction, with fewer car races and more expansive action scenes that drew in a wider audience. It has become one of the most successful action series of all time.
Street racing made his name, but Dominic Toretto now has his eyes on a much bigger prize: a cash heist that will buy his and the crew's freedom. He teams up with former cop Brian O'Conner to confront the shady businessman who is after their blood.
Cast: Vin Diesel, Paul Walker, Dwayne Johnson
Genres: Action, Crime, Thriller
The first film in the series that moves away from the underground racing scene became a monster hit for the Fast & Furious film franchise, raking in a massive $788.7 million, while also performing superbly at the box office.
Dominic is on a mission to halt a band of mercenaries with havoc on their minds when he is confronted by a more dangerous enemy: his own dark side. The trigger is the sudden reappearance of a former girlfriend who was presumed to be dead.
Cast: Vin Diesel, Paul Walker, Dwayne Johnson, Michelle Rodriguez, Jordana Brewster
Genres: Action, Crime, Thriller.
The Fast and Furious movies make up one of the most successful film franchises in the world. This seventh outing features an impressive cast including regulars Vin Diesel and Paul Walker and this time they're joined by Jason Statham as a very angry assassin.
Dom Toretto and the guys have come back home to America, determined to live normal lives free of crime. But the events of the past catch up with them as an old enemy's brother schemes to send Dom to the grave.
Recommended articles
Ciku Muiruri calls for help following the kidnap of her daughter
How ex-Classic 105 presenter's suit against employer transformed the media industry
How controversial content cost Nyako her military career
Eric Omondi labels Butita 'Judas' after State House meeting
I am open to love: Meet 123-year-old virgin in search of her Mr Right
Tyler Mbaya's Biography: Age, education, career, girlfriend & net worth
Jacky Vike aka Awinja celebrates son's birthday with cute message and TBT photos
Boutross in hot water for Scotland gig without promoter's consent
Milly confronts Kabi over uncomfortable public interactions with other women
Faith Kipyegon makes special dedication after shattering world record in Italy
Fred Arocho, Eric Njiru thrill fans as football season concludes [Photos]
Unleashing the power of M-PESA & its impact on mobile banking and sports betting
Comedian Arap Uria received by Senator Mandago after cycling from Eldoret to Nairobi
Thika Sports Club, next stop for NCBA golf series
Big Ted's inspiring message to Kenya's rugby community
Fitness influencer Shiv Simani joins fight against sports neglect by gov't
Kipchoge wins Sh7.4M prize in Spain
Ombachi shares how career-threatening injury pushed him into content creation