Get lost! TV girl lashes out at fans complaining about her 'skimpy dressing'
Jikate naniii kanyanga kubwa kubwa! - She shouted.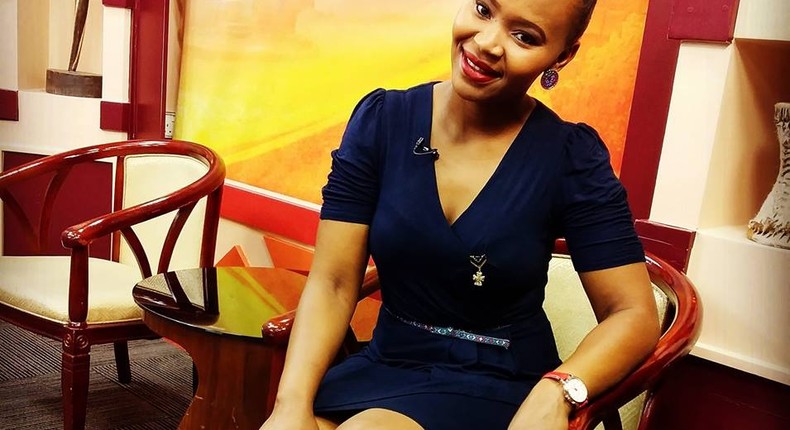 Kameme TV presenter Wangechi wa Kariuki lost her cool and lashed out at fans who complained over her 'skimpy dressing'.
Taking to Facebook Wangechi wrote, "Ndauga mundu ekire kiria ekwenda if you want a long dress its none of my business. ungikorwo ndugukenio ninii ndukamake go to the next in line nii ndiaciario gugukenia .Jikate naniii kanyanga kubwa kubwa..Na wakinya iguru ukauga tuhingiririo tutikaingire aria twikiraga nguo Nguhi kana ugure macuka ugatwenderia. Andu nomakuhande nyeni ungimehe weweeeweeee ona jesu mamuka muno amaikirie nja. alas !! (People should dress how they want if you want a long dress it's none of my business. If you are not pleased with me don't worry, go to the next in line as I was not born to please you. Get lost! And when you get to heaven tell God to lock out those of us who wear short dresses or buy lessos and sell to us who wear short clothes. People can push you around if you allow them and even Jesus threw out his critics when they went too far."
Pulse Live Kenya
Her outburst has angered some of her fans and they have taken to Facebook to give her a dress down.
Check out some reactions:
Njuguna Jimmy: Nilikua nakupenda! But since I learnt your stupidity n arrogant in you .........nyonaga mundu na remote karingika ndagekire kameme TV
Doc Wanjau: It's good to speak your heart but surely mind your language, humble yourself.
Njahira Njahira: Tame your tongue ...I don't expect a person like u to talk like this eish give us peace nawahuna uhumbire ndaa ...anyway ask people even kabogo was there n wamuchomba too andu aria makugagira ngemi noo makugagira mbuu. .menyerera ruririmi ..pride comes before a fall.
Gathuki Ngahu: Rîu ni maguru mariku maya ureyamba namo mahana ma funda cia lamu.
Annie Peters: Ngechi nowadays you are becoming irrelevant,Rudi wangechi mwenye tunajua a humble gal ùtarì mwìyambo
Samuel Thuku: Is this real you? Imagine you are loosing it. Utaloose fans ushangae. Maturity is not slavery.....behave!!! Yeah uko na Nguo fupi sana kwanza, so? Tujiue??? Weeeuweeeeee
Jayne Muhuko: Peleka maringo mbali nanii tumeona Vera Sidika, Betty Kyalo, Zari, so who are you?? Stop being rude eiish!!
Dadson Thairu: Niurora sister. Inspire people. Make good use of the platforms God has given you. Attention ikue kwa content not you.
Elizabeth Gichimu: You are in a field that is very sensitive pls lock your tongue...The same people that put you up there will still be same people that will see you go down there.......Don't care attitude achia akina Akothee, Sidika na wengine who are in a don't care field anyway.....If you don't care post this in Kameme group coz that is where it came from.....Ndio tujue you Don't Care.
James Njuguna: Stop talking shit ur role model of many young ladies....talks positive always and also respect the media ur working with
Baba Shelmith: Uko smart but unaongea vibaya.
Recommended articles
Thee Pluto excited as he graduates and reveals the challenges he overcame
YouTube names Thee Pluto & Pastor Ezekiel among top content creators in Kenya [List]
Kenyans roast Nancie Mwai after pranking fans about closing her business
Hamisa Mobetto counters critics questioning her son's fathership
Lupita pays tribute to late Chawick Boseman in sweet message
Nikita Kering' elated after performing at BBC 1Xtra Afrobeats concerto
Spotify releases most streamed Kenyan artistes & songs of 2022
Tems addresses trolls criticising her Dazed magazine's photoshoot
Actor Sandra Dacha commemorates parents' demise in a sombre message