Kansoul member Madtraxx gets married (Photos+Video)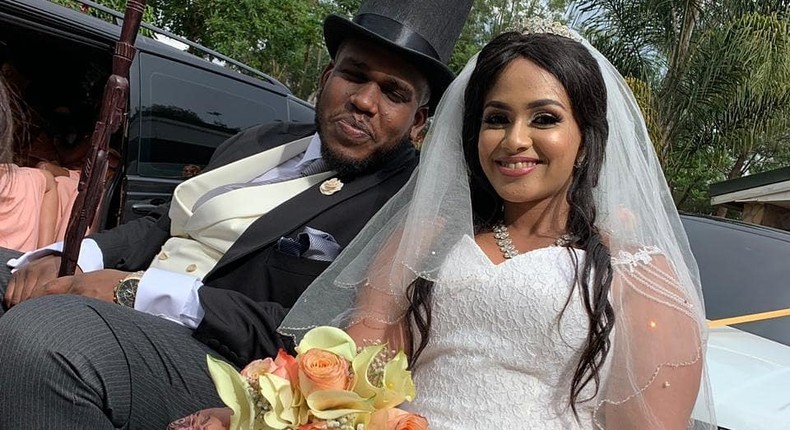 The Kansoul's Madtraxx has finally wed the love of his life and mother of his two kids Salma.
The rapper got married in a private wedding that saw celebrities like Big Pin, Joe Muchiri, DJ MR.T and Mejja attend.
His brother Stylez was the best man while Mejja was one of the groomsmen.
Peach was the colour of choice for the bridesmaids while the groomsmen were draped in Khaki suits and brown waistcoats.
Below are pics from the wedding:
ece-auto-gen
Madtraxx's wedding comes a few weeks after after Sauti Sol's Polycarp Otieno wed his longtime fiancée lady Mandy. And just Madtraxx, his was a private wedding held at the Fairmont Mount Kenya Safari Club.
Despite his status as one of the most famous musicians, Madtraxx keeps an extremely tight lid on his private life and you will rarely find his relationship making headlines in tabloids and on TV.
ece-auto-gen
But after his wedding, an excited took to social media sharing multiple photos from his wedding and captioned them "What a beautiful day yesterday was. My beautiful wife has made my life so amazing. It was really about time. Groomsmen and Bridesmaids were looking fantastic. And my Brother and Bestman @coderedstylez I can't Thank You enough."
Recommended articles
YY Comedian's mum shares untold story of how he suffered burns 7 times
Diamond pleads with Chege to release songs after unexpected reunion on stage
Mercy Masika expresses concern about modern pastors' fashion & modesty
Philosophy Fena Gitu applies in bold fashion choices
Nyako to take legal action against Brian Chira for defamation
It starts afresh every week! Georgina Njenga's response to body count question
Director Trevor & Eve Mungai announce baby plans, key dates revealed
Ndovu Kuu comes clean about relationship with TV presenter Claudia Naisabwa
10 Kenyan celebrities who've joined the singles club in 2023