Divided Opinions as Beyonce drops list of African artistes featured on her new Album Lion King
The Album is based on the Kenyan and Tanzanian scenery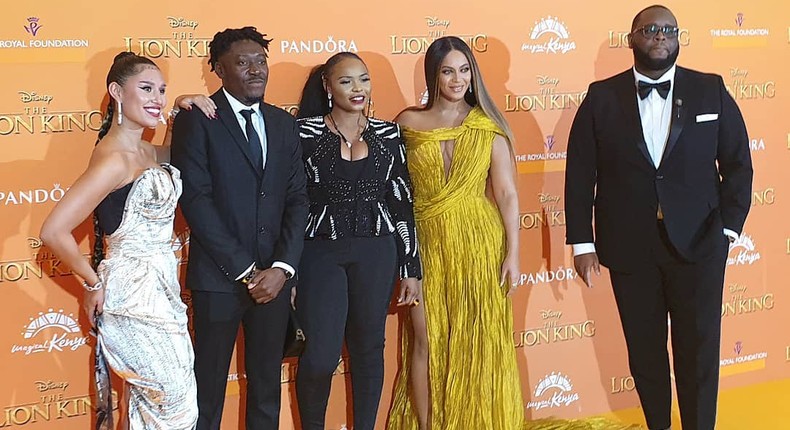 Musicians from East Africa have expressed displeasure in the list of African Artistes featured in Beyonce's new album dubbed "LION KING".
Many who expressed their opinion on the list dominated by West Africans argued that the fact that the Album has an African setting, more so East Africa, it could have been good if it featured at least one or two artistes from this region.
Those featured on the Lion King Album include- Yemi Alade, Mr Eazi, Tekno, Burna Boy, Busiswaah, Tiwa Savage, Shatta Wale, Moonchild Sanelly and Wizkid.
Apart from the Swahili words featured in the movie and Album, the other thing from East Africa is the Magical Kenya logo that was evident during the Movie premiere in London.
Sauti Sol's guitarist Polycarp Otieno, pointed out that despite the concept of the whole Lion King Movie being based on the Kenyan and Tanzanian scenery, they did not bother to include musicians from East Africa.
"This is The Lion King 'New Africa' Album with soundtracks of the new Lion King Movie. For a movie who's concept is fully based on the Kenyan/Tanzanian scenery, use of Swahili phrases and references, you would think they would at least consider artists from this region and not focus on artists from one country/region. Believe me I have nothing against the artists picked, if anything am happy for them. It's a lifetime opportunity that you can't pass by! I am very much against the people who decide to present Africa with artists from one country/region. #kunamatata#lionking Or maybe am being petty, Would love to hear your thoughts on this," wrote Polycarp Otieno.
Pulse Live Kenya
His (Polycarp) sentiments were echoed by a number of celebrities from both Kenya and Tanzania. Here is what they had to say;
"Hii kitu ni biashara poly, na waPopo wako na interests zao. Wote wanajua filamu iko set in East Africa na kihalali tungestahili kupata kanafasi, lakini hatuna wanaotuwakilisha huko kwa maExec wa Disney au kwa team ya Beyoncé. Isitoshe wakipiga mahesabu kihalali watu wa magharibi wanatuzidi kibiashara kwenye ununuzi wa bidha na mziki ndani na nje ya bara la Afrika. Kihalali kabisa ingepaswa hii album ijae kiswahili na masound ya pande zetu lakini kwenye soko la kimataifa bado sisi sio wazito in comparison to watu wa magharibi. Wangepaswa kufanya research to fully embody the essence of Simba. Lakini ndio hivyo. Na kiukweli ni misrepresentation na KUNA MATATA lakini ndiyo hivyo soko linavamiwa. Shikeni la kwenu. Ownership. Kama vipi tutengeneze na sisi album yetu"
Pulse Live Kenya
"Buuuuuut also like @bienaimesol always says, and I agree. Part of the issue is that we are still fighting for acceptance rather than ownership. Why aren't we doing and supporting our own, rather than fighting to be a feature on an American owned product"
"Hata tungefanya hizo lion ziimbe wamlambez alafu Mufasa ajibu....wam."
"Definitely food for thought a more diverse representation was needed"
"Its the same way these people come to S.A or Nigeria then go back and say they just had a successful music tour in Africa"
"Eish...they got the wrong side of Africa"
Pulse Live Kenya
"Valid point. I see Mr. Eazi and Tiwa repping for Africa, at the very least. I wonder how far the copyright law suit by Them Mushrooms went"
"Fuck you East Africans. Work hard. This is not your uncle's movie. it's a business. No pity party. Everyone wants to eat. You better have something on your plate"
"Legit concern@itsmefancyfingers. These are repercussions of our story being told by other people . I long for the day we will be able to tell our own stories manze"
"I'm not shocked cause these people actually make it seem like Africa is a country and not a continent with 54 countries in it!!"
Pulse Live Kenya
"I love Beyonce and all these other people but The Lion King is more than an African story. It's an East African story. So so sad that the soundtrack isn't predominantly East African. Because, how else are we telling an East African story without an East African sound and language? So so disappointed"
"I also free abit disappointed on the premium of the movie, considering the use of Kenyan scenery and swahili, we should have a major in East Africa"
"Ngoja sasa muone hata launch ya EA itakuwa a by the way. Closest thing to a launch for us ni zile lion si hukutana nazo tukienda job asubuhi. But on the real @magicalkenya@brandkenyaboard ummm"
"Yaani these guys couldn't identify JUST ONE Kenyan/Tanzanian artist yet the movie has some swahili in it. They're all from the west yet the movie is more related to the EA side"
Recommended articles
Harmonize deletes 'Weed Language' from YouTube days after release
Nadia Mukami confirms break up rumours with Arrow Bwoy
Zari threatens to sue blogger for circulating false information
Mark Masai announces his next move after leaving NTV
Burna Boy set to drop documentary for single, 'Whiskey'
Ommy Dimpoz loses Sh1.5M moments after the death of his ex-girlfriend
Dennis Okari bids farewell after being fired by NTV
Inooro TV presenter marks 7 years in media in a splendid way
Mbusi heaps praises on wife with cute message as she celebrates birthday