Kenyans reacted hilariously after it emerged that the Music Copyright Society of Kenya (MCSK) is paying musicians peanuts (Sh2500) in the name of their accumulated royalties.
On Tuesday, a number of musicians took to social media to share with their fans the amount of Money they had received from MCSK, expressing displeasure.
Rapper Khaligrah Jones was among celebrities who called out MCSK, saying;
"MCSK Siku Moja Tutakuja Kuwavuruga uko Mbaya Sana, Msijaribu kunitumia izi peanuts tena, Infact I have given Authorization for my Music to be pirated, Don't collect money on my Behalf anymore, Nisiskie mmeshika mtu akicheza Wimbo zangu kwa street, msinitumie izo peanuts zenu tena, The OG shall be respected #mrinternational".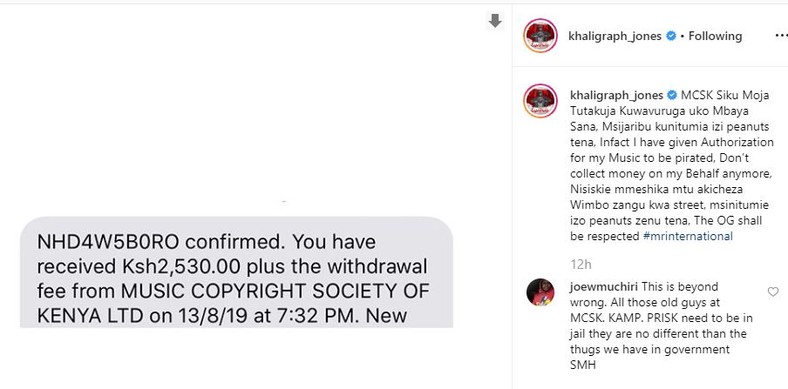 Don't collect my money again
He further cautioned MCSK not to collect any royalties on his behalf or arrest anybody found playing his music as he has given authorization for his music to be pirated.
His sentiments were echoed by the likes of King Kaka, Timmy Tdat, Wangechi, Fena Gitu, Gidi Ogidi, and Nikita Kering among others.
The Music Copyright Society of Kenya (MCSK) is the body tasked to collect royalties on behalf of musicians, authors, composers, arrangers and publishers of musical works.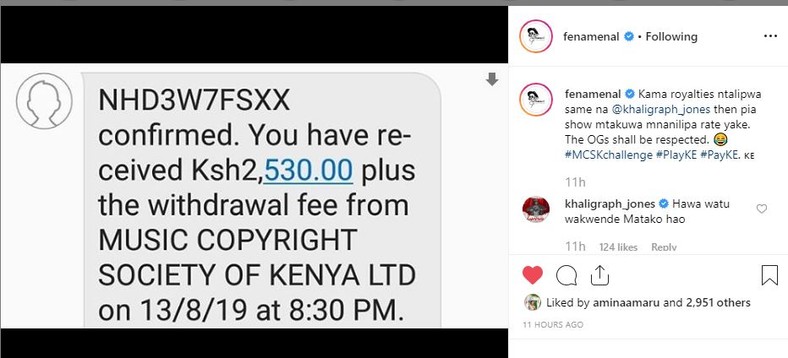 Here are some hilarious comments from Netizens
dynamodenis "I hate to say this but mshahara yangu ni mingi kukuliko"
kate_actress " yaani sasa huwezi nishikia ile mzinga yetu ? Huwes afford"
dansonko "Kuna zeros mbili walisahau labda"
bettymuteikyallo "This is pathetic"
celestinendinda "mimi nataka hio 30bob ya kutoa"
jaspermurume "Huskii nimepiga simu huko wakasema ngoma zangu mbili ata hazina video kwanza wananidai, ata sijaskia vibaya"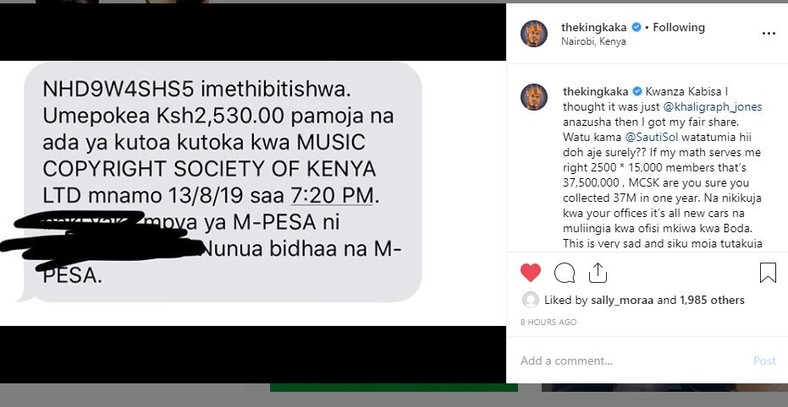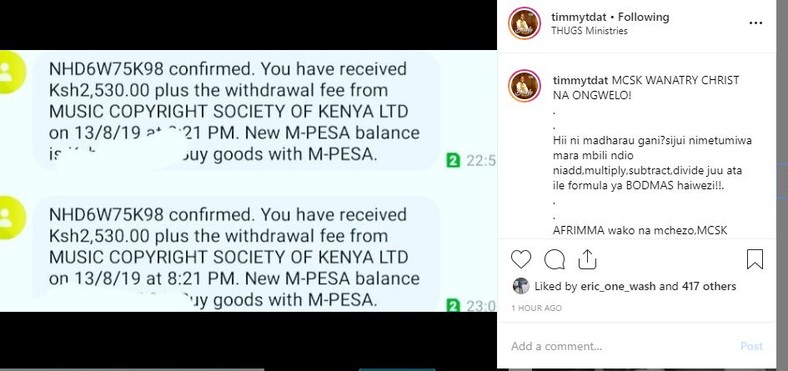 sasha_d.m.b "Sasa si kina sailors na ethic wanatumiwa tu fare"
lisacampbelofficial "Sasa Stivo simple boy c atatumiwa 10 bob"
ruch_afrikanationmziki "Haitoshi hata kuBook location ya video, Anyway it is well"
rowena_njeri "@fenamenal@khaligraph_jones please consult us strategist we're Willing to show Kenyans how to stand against hujuma"
jayplus__"Zero sufuri naona akipata zero shillings"
joewmuchiri "This is beyond wrong. All those old guys at MCSK. KAMP. PRISK need to be in jail they are no different than the thugs we have in government SMH"
zudesh "Is this monthly pay? Ama umeedit zeros zingine Dada"
mcatricky "Nikitaka kuitisha njugu sai " Oya boss ,nipatie MCSK khaligraph za Kumi"
timmytdat "Chukua change kama umesonga"
bienaimesol "Heri wewe umepata kakitu"
djnruff "Niliwaambia 7 years ago mchape hawa majamaa!!!!.nikatolewa group na CEO"