"He still smashed though!" fan mocks Michelle as her drama with Prezzo gets dirtier
Last year, A-list couple Sean Kibaki and Elodie Zone had a rather passionate and public break up with dirty accusations flying around and Sean being all up in his feelings. But we let it slide since they are just kids and sometimes when we are young we let our emotions over-ride our logic.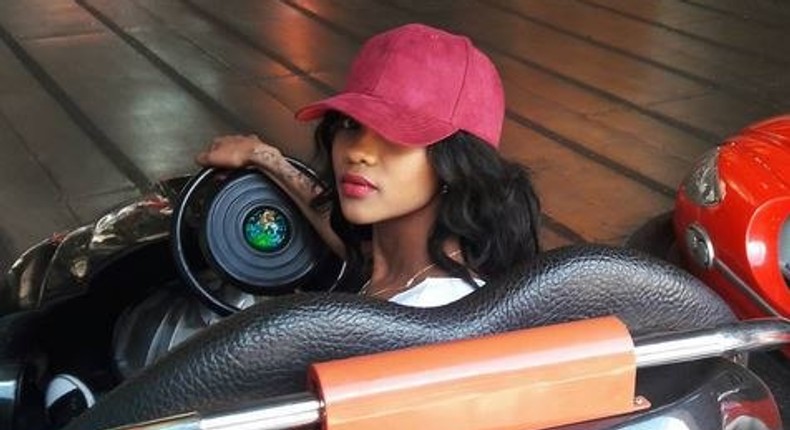 First it was Yola who decided to expose Prezzo on Instagram with incriminatory screenshots revealing his naughty trysts in Dubai with another woman, next came Prezzo trying to pull down his bottoms on live TV when he was accused of cheating.
Prezzo pulls pants down on TV
Later, Michelle Yola was spotted looking intimate with an elderly Mzungu, a video many thought was directed at Prezzo.
I retaliation, Prezzo later posted an audio-less video with ex, Huddah Monroe where he plants a kiss on the petite socialite then Michelle Yola posted a picture insinuating that Prezzo's manhood was tiny.
Prezzo also fired back at the accusation of a small d**k before telling Mpasho news that "The ditch deserved the car more than my girlfriend." after running his posh car into a ditch.
But pause there Morocco! The drama is now yet over, as Michelle shared this post on Instagram and we can tell she has learnt the art of 'feeling herself' from Prezzo.
"It's so funny when people think the world revolves around them. If at all I was addressing anyone I would have tagged them. People can be so shallow. So you can't IMAGINE things now or post anymore cz someone assumes it's about them lmao..No one's thinking about you AT ALL. Anyhu moving on swiftly, too many fish in the sea I gotta catch no time to 'clapback' #if the shoe fits wear it.
#Huu mchezo hauitaji hasira #QueenPablo# Say my ma'fuck*n name! YOLA. When you're checking what time it is on your watch read it out loud too." She wrote in reference to her name that was tattooed on Prezzo's hand.
Her post has received many reactions on social media, most of them positive, but there is always that drop that spoils the broth. Amid all the 'You go girl' and 'Good riddance' comments, there was someone who wrote "He still smashed though!" before tagging Prezzo.
Honestly despite this drama, I have a feeling this guys will come back together, they are just like magnets to each other and all we can do is give it time. Tick tock!
Get our Top Stories delivered to your inbox
Recommended articles
Gabiro Mtu Necessary officially named No.1 artist in Kisumu after cracking 2M streams
Queen of my heart- Waihiga Mwaura celebrates wife on birthday
Eve Mungai back online, explains reason for disappearance
Comedian Brenda Jons officially gives her life to Christ
'Gangsta's Paradise' rapper Coolio dies in Los Angeles
Eric Omondi reveals how Moses Kuria secretly helped his career
Bahati deletes all posts on social media after 2 weeks of silence
Fridah Kajala's response to divorce suit by Harmonize's ex-wife
Time really flies! Guardian Angel's wife Esther Musila shares a TBT photo before marriage