Bonfire Adventures' Sarah Kabu angers Kenyans with comment on Manu Chandaria's wedding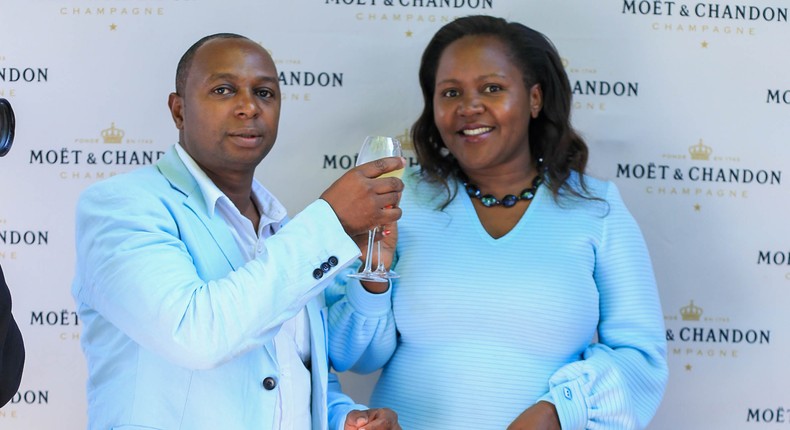 Bonfire Adventures Managing Director Sarah Kabu has angered Kenyans with her comments, on Billionaire Dr. Manu Chandaria's recent wedding.
She went on to say that it was okay for the young couples to ask for contributions from their friends to be able to fund their weddings and that those who do not contribute, should not step foot at the wedding because they are expensive.
Mrs Kabu stated that weddings are merry making events and in another comment said that if she was to wed again, she would ask friends to contribute, regardless of her financial status as a way to know who her real friends are.
"Young couples planning weddings are being mocked for asking for help to do big weddings just because Dr. Chandaria did a kshs 3900 after 64 years. Am here to encourage the young couples not to shy to ask for mchango those who don't want to changa dont attend people's weddings they are expensive... even Jesus changad for a wedding by donation of his miracle to turn water into wines... weddings are meant to be a merry making event watu waonje Mali yako... life is not that serious jameni," she wrote.
90 year old Billionaire industrialist Manu Chandaria formalized his marriage to wife of 64 years Aruna at a private ceremony held at the Attorney General's office, on Friday last week.
Pulse Live Kenya
Sarah Kabu's words did not settle well with a section of Kenyans who felt like her words were very much misleading to the younger generation.
Here are their reactions;
sunshinebalogun Let everyone do what is best for them. I admire this couple. They have spent decades together, why spend millions on a formality? Where I come from, if you dare ask for contributions for your wedding, you may end up not marrying, as people believe you have to be financially ready before you take that step.
mwauraeliud Me for today I don't agree with you,for youngs..wedding is a one day function & marriage is a forever thing,if a person cant afford the big weddings we got the AG,chief..Never spend what you cant afford especially in wed A BIG LIFE MISTAKE,do a simple wed & live without stress,si kufanya wed watu waje wale & leave you with life loans,
w.a.m.z.y Sarah please let people be, be! To each their own. Stop giving wrong advice. Big weddings are good if you can afford, small weddings are good, no weddings are good. To each their own lady Sarah.
Pulse Live Kenya
kaystyne That's an unfortunate comment, you don't tell the youth to try emulate his philanthropic endeavours?! But you want to call him mean for having a low key ceremony for HIS wedding? How now?
anastasia_nganga I beg to differ i don't see the wrong they did here this is a personal decision. It has nothing to do with the fact that they are billionaires they are just a normal couple who made a decision that worked for them. We can't say they are mean just because they didn't throw a party or maybe they did later on with close family and friends we just don't know. Probably they are paying fees for relatives even orphans they may be running charity organizations behind the curtains that we don't know about.
riiawori There is nothing wrong with an AG's wedding. This is what they decided to show us, we don't know if there was a grand celebration later on. Some people prefer privacy.
theonlycelesteliyai I agree with you and him. In short, live and let live. Wale wanataka kuchangia wenzao wachange. Wale hawataki wasichange. Wale wanataka ndoa kubwa wafanye. Wale wa "come-we-figure-this-out-together" pia wajibambe. Let's accommodate everyone's decisions. That way, we live peaceably with all.
ryceryan People are different and how they view happiness is also different let's embrace kila mtu
walleroliver Why poke nose to someone's wedding ,you haven't contributed anything to his life ,you can do a party on his behalf then call us to come and eat ,i am sure those who are hungry will come
Get our Top Stories delivered to your inbox
Recommended articles
Gabiro Mtu Necessary officially named No.1 artist in Kisumu after cracking 2M streams
Queen of my heart- Waihiga Mwaura celebrates wife on birthday
Eve Mungai back online, explains reason for disappearance
Comedian Brenda Jons officially gives her life to Christ
'Gangsta's Paradise' rapper Coolio dies in Los Angeles
Eric Omondi reveals how Moses Kuria secretly helped his career
Bahati deletes all posts on social media after 2 weeks of silence
Fridah Kajala's response to divorce suit by Harmonize's ex-wife
Time really flies! Guardian Angel's wife Esther Musila shares a TBT photo before marriage