Why Huddah Monroe admires Size 8 and DJ Mo's relationship
Size 8 and DJ Mo have an unusual admirer...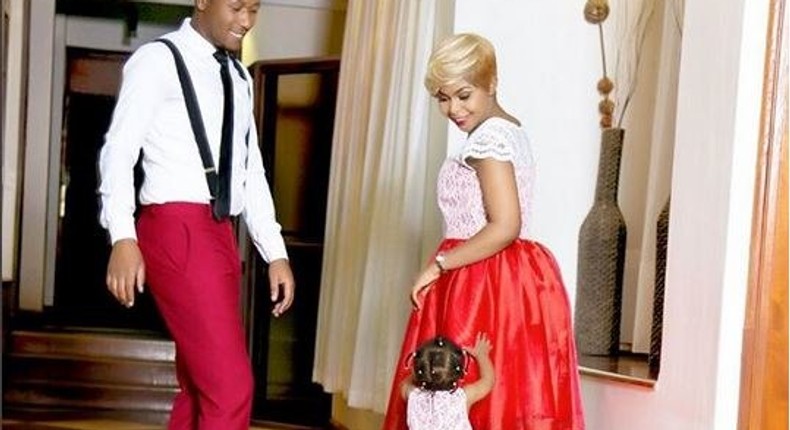 And their latest admirer is Huddah Monroe who said that they are a good example of a great young couple.
This is after the frustration she has experienced in the hands of rich men.
"Kenyan men think you are an opponent. They will never help you move a step ahead in anything you do, maybe just alcoholic sprees and nyama choma.
They buy you car, log book not under your name and when you break up, they take it back. They rent a house for you, three times more than you can afford, then they pay rent monthly so you have to keep on calling the every end moth to remind them, when you break up you are back into the struggles.
I dated enough Kenyans and I said never again. LOL. I'd rather be with a young Kenyan guy who is growing in his career and we grow together than rich frustrations, mwache kukimbilia Maisha ladies." She said cautioned the ladies from chasing the fast life.
"Size 8 and her man are an example of a good young couple, they started from the BORROMMM! Now I see them even more happy, two young achievers." She said.
"Before adding "Be an upcoming boss, date and upcoming boss and build an empire together. These rich men will never really make you happy, they use you and dump you. Not me though, I took what was mine in due time. But you aren't me."
She also said that a lady at 25 should not be a kept woman cruising around in borrowed cars ."At 25 no man should be keeping you, paying your rent and giving you cars to drive that don't belong to you. You are better than that."
Recommended articles
If there's a video of us saying she's single, please share - Terence Creative
What sparked Eve Mungai's fiery reaction after Commentator 254's baby news
Wakadinali's Domani Munga takes a break due to health issues
Amapiano is just a rebranded version of Ghana's Azonto – Samini
New animated film JESUS (2025) set to break ground in more than 2000 languages
Christina Shusho's Biography: Early life, start of music career, husband & 3 kids
'Twa Twa' Pastor explains reasons parents should not kiss their children
WaJesus family commemorates 6th anniversary with exclusive love series
Mbogi Genje's Smady Tings finally reacts to Jacky Vike's open crush on him