The Wajesus vs Terence Creative beef, Bahati's son speaks minutes after birth and top entertainment stories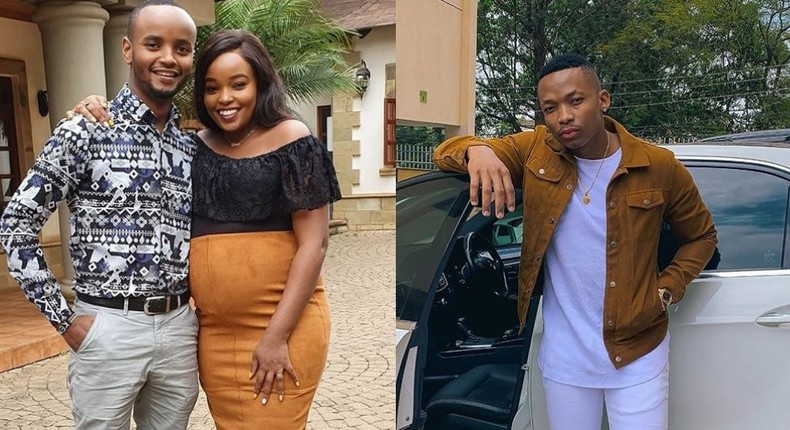 The WaJesus vs Terence Creative beef
Many of you might be wondering what happened to the much publicized friendship between Kabi wa Jesus and Instagram comedian Terence Creative's families. They no longer hangout together and treat each other to dinner invites like before.
#UhondoMtaani has learnt that the two couples that had become the envy of other couples on the gram had a misunderstanding and are no longer in talking terms. Digging further into the silent wars the two families have had for a few weeks now, we discovered that they don't even follow each other on Instagram.
They also deleted videos they had shared having dinner at both their houses, something that used to happen at least twice a week.
#UhondoMtaani also noted that Terence and his wife Chebby were not invited to Milly WaJesus' birthday party which also doubled up as a gender reveal party for their unborn child. Could it be because of their women? Time will tell.
Friendships do really have a different meaning nowadays!
Otile Brown can't just keep a woman!
Pulse Live Kenya
RnB singer Otile Brown was treated to a dose of black roses by his Australia based Ethiopian bae, Nabayet, making him the second East African star to be dumped with a black rose.
The act was followed by having photos and videos they took together being deleted from her Instagram page.
This was the second time Nabbi dumped Otile in their less than seven month relationship.
According to the Baby Love singer, however, he might have changed his ways to be with Nabbi, but she kept on nagging and complaining. He went on to ask what one does in such a case dropping a series of emojis that ended with one of a person running away.
Is Otile Brown the problem?
Pulse Live Kenya
A few days ago, controversial blogger Lisa Gaitho revealed that she is broke. In a post on her insta-story, Gaitho revealed that she had less than Sh100 bob on her. Adding that having God in her life is more valuable than material possession.
"I currently don't have more than 100 shillings to my name but what do I have… billions cannot buy, nor would I trade. Nothing is sweeter than having God provide for you," read part of her post.
The fashion blogger became an internet sensation after she shared a vlog advising women to go an extra mile in spicing their relationships, including washing their men if they have to. "Treat him like a baby, treat him like he is King, even the small things that you think are not necessary, do it, trust me it goes a long way… If he wants to take a bath you should go and wash him, scrub him. Don't let him do anything by himself, clean his ears like how you would wash a baby. Try it, put mafuta on his body and dress him."
Few months later, she came out saying she was single and celibate, and was now on the righteous path – Ameokoka. If you know her story, then you very well know that she has had her fair share of good and bad.
Hang in there Lisa, all will be well soon!
Bahati's son speaks minutes after birth!
Pulse Live Kenya
Ni Bahati tena!! So EMB boss and his wife on Wednesday welcomed their baby boy whom they have name Majesty. At this point, we cannot really say what influences the kind of names the Bahatis give their children but their taste and choice is clearly out of this world.
Majesty became a point of discussion and was trending for many reasons one being that he was already speaking and responded to his mother and his father's post that welcomed him to the world.
Oh, this is what #UhondoMtaani did not tell you, he has an Instagram account with more than 17.6K followers and is also RFH hospital brand ambassador! Imagine that? Brand ambassador minutes after your birth?!!
The question, however, is, is it really necessary to rush you child into responding to your comments? Relax baba Morgan, Mueni, Heaven and now Majesty, relax mtoto ni wako!!!
And also congratulations from the #UhondoMtaani team.
Pulse Live Kenya
Ethic's deleted song "Figa" is a copy and paste
On Friday, we woke up to news of Ethic's song Figa being pulled down from all streaming platforms (YouTube, ITunes, Spotify and others) . This a major setback to the crew, bearing in mind that any song uploaded in YouTube is supposed to bring in money and in this case Figa was doing well.
As the Uhondo team, we opted for a research as to why the song has been pulled down from YouTube and other platforms. Surprisingly, we stumbled on another song that was dropped in 2017 bearing the same beats as that of Ethic's Figa.
Actually, Figa is a copy and paste of the song Cono by Puri ft Jhorrmountain and Adje that was officially uploaded on YouTube, December 9, 2017. Could the resemblance between the two songs the cause of its deletion from the streaming platforms?
If you are familiar with the music business, then beat sampling is not a new term to you. Producers around the world do beat sampling, as there is no way you can be 100% unique. Ultimately, were are all influenced and inspired by the music we have heard and since there are only seven notes you can use in each key, similarities between songs can't be avoided.
Beat Sampling is Legal around the world, as long as the Producer seeks permission from the owner of the original sound (beat).
This rings a bell that, Motif did not seek permission from the owners of the Figa's beats hence landing in trouble over copyright issues.
It is clear, do not use samples if you don't have proper permission, unless you want to go to Court.
And now that Ethic are working under AI records a subsidiary of Universal Music Group, their work is globally monitored and any slight mistake will be easily detected. 
Recommended articles
Akothee shares photos of her honeymoon in Santorini, Greece
Paula Kajala gifts herself multi-million Toyota Vanguard
Kabi & Milly WaJesus team up to slam Size 8 for clout chasing
Keranta's conservative spending leaves Flaqo disappointed
I love everything about you - Pritty Vishy unveils new lover [Photos]
TikToker Nyako apologizes to Lulu Hassan after online outburst
Terryanne Chebet introduces special person as she marks 44th birthday
Zari talks 'white wedding' with Shakib, respect for Diamond during Tanzania trip
Celestine Wakavinye brought to tears in sold out 'TTNT 4' show at the KICC
Thika Sports Club, next stop for NCBA golf series
Big Ted's inspiring message to Kenya's rugby community
Fitness influencer Shiv Simani joins fight against sports neglect by gov't
Kipchoge wins Sh7.4M prize in Spain
Ombachi shares how career-threatening injury pushed him into content creation
Ruto donates millions after AFC Leopards beats Gor Mahia for 1st time in 7 Years
Ulinzi Stars midfielder returns from four-month injury layoff
Kenya's thriving sports culture: A deep dive into the country's passion for sports betting
The 8 largest events in Las Vegas 2023