See what Diamond did for Zari after embarrassing her
Is simba crawling back home after the social media embarrassment?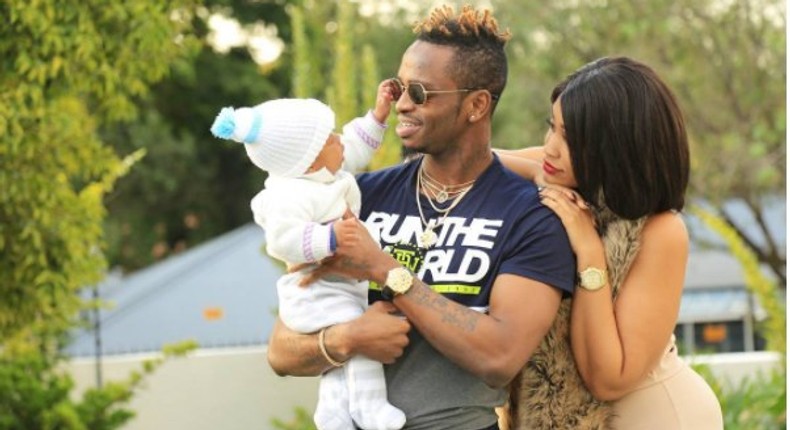 Diamond Platinumz and Zari Hassan were all over social media exchanging bitter words on allegations of Zari cheating on Platinumz.
After embarrassing Zari Hassan on social media Diamond Platinumz has decide to swallow his pride and crawl back to the mother of her two kids in a sweet way.
Platinumz brought down all the posts on his Instagram that contained bitter words and hour's letter uploaded two videos with his family accompanied with lyrics of Taarabu song.
According to lyrics of the song "We quarrel in the morning, in the evening we are back to talking at each other…," just passing the message to his fans that things are back to Normal.
Simba went ahead to captioned his Video "Nimesema staki ushambenga!" asking people to stay away from his family has they are together to stay.
Early on Diamond platinum has accused Zari for cheating on her after pictures surfaced online showing her with another man having a good time in a swimming pool.
"Ndio maana wakati mwingine naonaga bora tu nile na kusepa…. maana hawathaminikagi wala kuaminika hawa…. loosely translated to ("(the reason why sometimes i prefer being a player than a committed loyal man "claimed Platinumz
But after a few hours Zari Hassan decided to respond to the allegations stating that, the unknown man was the cousin to the late Ivan Don and she took the pictures courtesy of his wife.
"Photo credit was by his wife. He is my kid's uncle, the lates' cousin and I happened to meet them at a spa. when you are that it loyal gal, someone will always find fault when it's not there just to cover and turn around stories of all the dirty they do behind you back" said Zari.
The reactions of the two loved birds left many with questions of whether all was fine at Platinumz White house or hell was breaking loose.
Since the death of Ivan Don, Diamond Platinumz had not posted any photo of his family until yesterday when the two went harm on each other.
SITAKI USHAMBENGA -Bin Seif
Recommended articles
Murugi Munyi buys herself new multi-million SUV [Photos]
iAm Marwa builds 3-bedroom house for helpless neighbour [Photos]
Bebe Cool: Competing with Chamelone, Bobi Wine cost me a fortune but it was inevitable
'Die Hart': Kevin Hart's new movie is coming to Prime Video
Recording artist Emmanuel Jal launches food store in Nairobi [Photos]
Ex-Citizen TV reporter among 3 winners of KAS Media Africa award
Zari, Shakib quash break-up rumours in new video
My heart beats for you - Prophet Carmel celebrates wife Lucy Natasha on 1st anniversary
Bien defends wife Chiki Kuruka after grinding incident