11 pairs of eyebrows that will give you nightmares (Photos)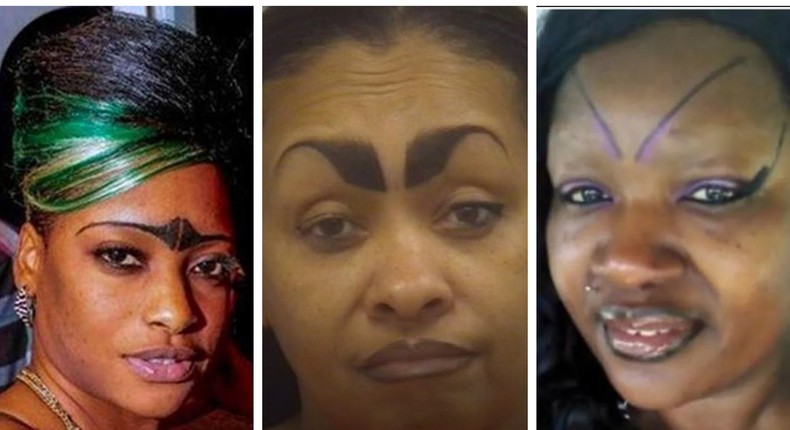 Can we talk about eyebrows for a second?
They're so precious right? You get them wrong and your whole face is screwed. Eyebrows come in many shapes and forms. There are those lucky people who are born with full eyebrows. And, for other people, eyebrows are non-existent. They kinda look like this…
But that's not a problem cause with all the brows on fleek tutorials out there, you can easily get them to look like this…
ece-auto-gen
But that takes skills folks. In fact, getting brows on fleek is an art. You need the right products and the knowhow, failure to which, you may end up on this list of ladies who stepped out with the worst pairs of eyebrows you will ever see. These eyebrows are so bad, we have nightmares. These eyebrows deserve their own horror movies and no, we ain't kidding.
1. These ones that look like they're swimming towards each other, or doing the worm dance.
ece-auto-gen
2. This pair looks like two fat fish.
ece-auto-gen
3. This lady likes them extra thick.
ece-auto-gen
4. She took 'Meeting each other halfway' too seriously.
ece-auto-gen
ece-auto-gen
6. Was she going for a rectangle shape?
ece-auto-gen
7. This one gets E for effort.
ece-auto-gen
8. Maybe she wanted a Nike endorsement deal?
ece-auto-gen
9. These ones look like sperms swimming...
ece-auto-gen
10. This pair reminds me of my math teacher asking me to find the square root of a certain number.
ece-auto-gen
11. These brows look like they drank Redbull and gained wings to fly.
ece-auto-gen
JOIN OUR PULSE COMMUNITY!
Recommended articles
Details of cosmetic procedure behind Kate Actress' new body [Video]
Here's why sleeping with your phone in bed can affect your health
Body count: Stop asking your girl for it, you don't need to know
25 top designers to showcase at Nairobi Fashion Week
Kelvin Kinuthia and mum step out with matching outfits on birthday[Photos]
Barbie tattooing my face on her back boosted my self-esteem - Bobi Wine
5 problematic beauty standards created by celebrities and influencers
Influencers who turned side hustles into successful businesses
Brown Mauzo pens beautiful message celebrating fiancé's birthday