9 most common hairstyles of 2018
These are the styles that dominated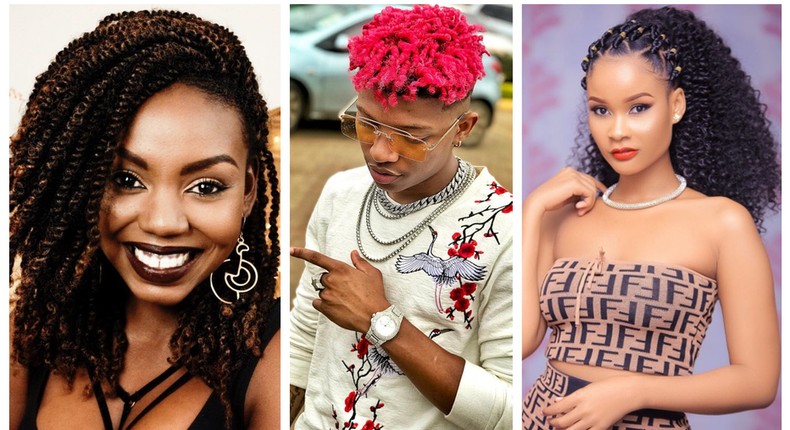 They say that the beauty of an African woman is her hair and its versatility.
Sure enough, African women and black women in general can effortlessly switch up hairstyles depending on the look they're going for and the occasion because their hair texture allows them to. While we had the natural hairstyles take over 2017, this year saw a mix of natural and weave and wig styles but what dominated has got to be vibrant hair colors; that and more, here's a list of the most popular hairstyles of 2018.
1. Cornrows
Fulani braids were quite popular last year, but they crossed over to 2018 too and we saw different variants of the style, from beaded Fulani braids to non-beaded. For those who did not want to go with the flow, midway cornrows were the go-to, as well as the top knot braid bun which was quite popular.
2. Goddess locs
While box braids were still quite popular seeing as they're quite perennial, we saw ladies choose more trendy braid styles such as the goddess locs which were more popular than the faux locs which took over 2017. Goddess locs can either be achieved through crocheting or merging two different braid styles to get the curly edges.
3. Spring twists
Spring twists were definitely a go-to style for many ladies in 2018.
4. Colored hair
Colored hair was really big in 2018. Celebrities such as Masterpiece, Miss Karun and Vivian rocked colored natural hair so effortlessly, while other celebrities such as Nancie Mwai and Catherine, of popular blog The Fashionable Stepmum went for colored wigs. Colored braids were also quite popular and trendy and for those bold enough to try out the style; sunset orange, pink, turquoise, blue and purple were the IT colors of the season.
5. The 'Hamisa Mobetto' hairstyle
Does it have a name? We don't know, and to be quite honest, we don't care. All we know is that it was box braids, adorned with accessories and tied into a top bun and then a curly extension was attached as a ponytail. Nairobi girls should thank Hamisa for upgrading them and introducing a much-needed new hairstyle.
ece-auto-gen
6. Temporary locs
Temporary locs is economical, edgy and stylish, plus, you don't have to go through the process of getting natural locs which requires a lot of patience and commitment. Perhaps that's why the style was quite popular this year.
ece-auto-gen
7. Fringe braids
Box braids with a little flair, which involved adding braid bangs.
ece-auto-gen
8. The slicked back ponytail
Ponytails were really huge this year. From jumbo goddess ponytails to slicked back ponytails with a straight or curly extension, we did see the style on many red carpets and sported by many fashion and beauty aficionados both locally and internationally.
ece-auto-gen
9. The pixie cut
For anyone who wanted to rock short hair without actually cutting their real hair, then the pixie was a must-try. Very chic and effortless and can be achieved with either a human or synthetic weave or even a wig.
ece-auto-gen
JOIN OUR PULSE COMMUNITY!
Recommended articles
Here are reasons why grooms cry at wedding ceremonies
5 ways to have more mind-blowing sex in your relationship
5 things you should never do to please a woman
Popular Nairobi lawyer Silas Jakakimba weds fiancée in star-studded ceremony [Photos]
What's the craziest thing love has ever made you do? 10 Nigerians share their drunk-in-love stories
5 medical examinations every couple needs before marriage
Different types of customers you will meet when working in customer service [Pulse Contributor's Opinion]
How to successfully shoot your shot [Pulse Contributor's Opinion]
Why won't my ex just stop texting me?