A quick and easy guide to clean your dirty makeup brushes at home
For smooth makeup, you need clean brushes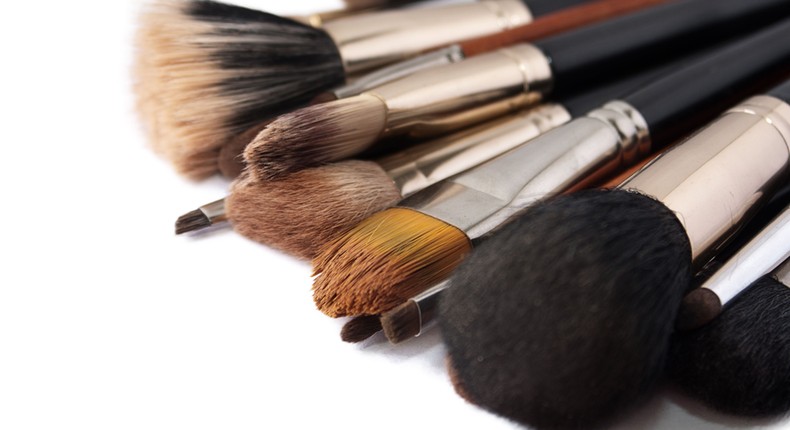 Makeup brushes become so dirty from all the oil and dirt build up on our skins.
A majority of us ladies forget to clean our makeup brushes. You should clean your brushes often to remove the excess makeup, dirt, oil and bacteria because not only will a dirty makeup brush give you an average finish, but also cause your skin to breakout. Now, if you check for videos on how to clean your brushes, you will find a tone of them out there especially DIY ones, albeit, not all those methods are effective. You have to remember that makeup brushes are pretty expensive and what you don't wanna do is destroy them. That said, you have to be gentle.
We will show you a super easy and affordable way to clean your brushes. All you will need is extra virgin olive oil or coconut oil, an anti-bacterial handwash (you can also shampoo instead) and a small tray.
1. On a tray, pour a bit of coconut or olive oil and your antibacterial soap.
The oil helps keep the brushes softer and prevents the bristles from being too dry.
2. Dab your dirty makeup brush on the oil and antibacterial soap then rub the brush in a circular motion on the palm of your hand.
3. Repeat this for all the brushes.
4. When through, using luke warm running water from a tap, rinse off the brush, again, by rubbing the brush on the palm of your hands till you see the water become clear and all the brown color from your foundation gone.
When rinsing, do not put the brush straight up facing the water, to prevent the water from going into handle of the brush.
5. Squeeze out the excess water from your brushes, spread them out on a towel and leave them to dry.
JOIN OUR PULSE COMMUNITY!
Recommended articles
8 Easy ways to give yourself a spa treatment at home
Bahati's producer proposes to long-time girlfriend [Photos]
Dr Ofweneke speaks on failed attempts to end life thrice
Kambua shares her biggest lesson in motherhood
DIY Recipes: How to make sweet potato fries
South African star Ami Faku delivers rousing performance at Drip Fest [Photos]
Bed-time routine hack to help you fall asleep faster
5 traditional qualities money has replaced in modern relationships
Is love transactional? - First episode of Pulse LSL premiers [Video]