Here's why your hair is thinning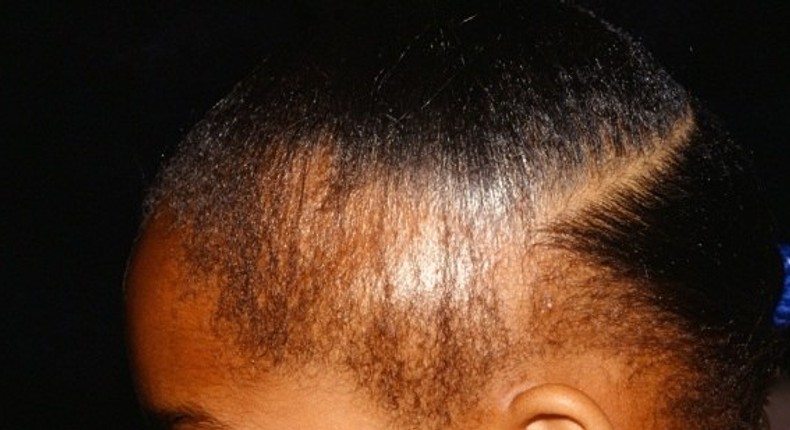 One thing that a lot of people fear is losing hair.
If you think about it, hair is kind of a big deal right? Like, you would have to live as a baldie if you suffered severe hair loss or wear wigs always. Normally, baldness is linked with genetics but hair loss can also be due to many other things including lifestyle choices. For the majority of people, especially women, hair loss occurs along the hairline and this is due to excessive braiding, lack of wearing protective styles, causing strain on the scalp with overly tight hairstyles, to mention but a few. But what about when the hair starts getting thinner? We have the reasons for that.
Believe it or not, what you eat has a direct impact on your skin and hair health. You can reverse hair loss by eating a well-balanced diet consisting of foods that are high in protein, iron, omega 3 fatty acids, vitamin E and zinc.
2. Taking very hot showers.
Hot water strips the natural oils and moisture from the hair and it becomes dry and brittle and that can lead to your hair thinning and falling off. Instead, use lukewarm water in the shower and if you can, rinse your hair with cool water.
Pulse Ghana
3. Oral birth control pills.
If your hair is shedding more than usual, it could be due to birth control pills. A pill that contains androgens can cause hair loss for someone who is androgen-sensitive.
4. Not washing your hair for long.
Failure to wash your hair often will lead to product build-up and dead skin cells can clog the follicles, making it hard for new hair to grow. To ensure good health of your hair, wash it at least twice a week.
5. Using excessive heat on the hair.
Using hot styling tools such as straighteners, curlers and blow dryers will expose your hair to extreme heat which then damages the cuticles and proteins that your hair is made of.
Pulse Live Kenya
Some medicines such as anti-anxiety and anti-depressants can cause hair loss because they can disrupt with the normal cycle of hair growth, causing hair to fall out prematurely. 
JOIN OUR PULSE COMMUNITY!
Recommended articles
3 reasons you should apply lime juice on your face
NTV anchors Ben Kitili & Lofty Matambo promoted to senior roles
15 of the wildest animal specimens I saw hidden underneath one of the world's largest natural history museums
Cucumber: The health benefits of this fruit will leave you speechless
KTN anchor holds dreamy beach wedding ceremony on her birthday [Photos]
Fairytale bride: The 3 dresses Rita Dominic wore on her wedding day in detail
Check out how Rita Dominic and her husband looked at their white wedding
The way of men - How the 1st inaugural men's event went down
DIY Recipes: How to make Sausage salad