Outfit options that make life easier for breastfeeding moms
Always struggling to take the boob out?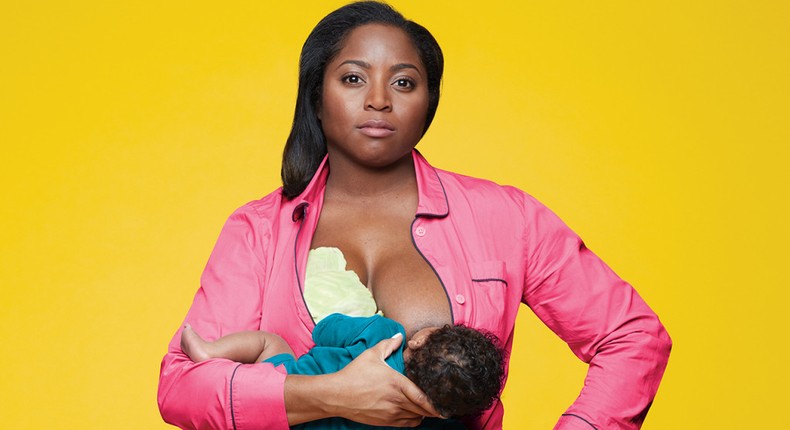 For new moms, it can be hard to figure out what to wear post baby.
Your body is not the same as before – there's the baby weight and now, you have to factor in breastfeeding. When you're at home, it doesn't really matter because you're in in your own private space and you can even feed your baby while you're topless. But what about days when you have to leave the house? You will not stop feeding the baby because you're outdoors. In that case, you wanna make sure that you're wearing something with easy access to the boob; an outfit that will not make it so complicated to take out the breast and feed the baby, like a dress with a zip at the back or a turtle neck bodysuit for instance. So, as a breastfeeding mum, what are your options? We have a few:
1. V-necks and crossover tops.
The great thing about anything with a v-neck or crossover design is that you don't have to lift it up as the design makes it easy to access the breast and also put it back when you're done breastfeeding.
Instead of wearing complicated dresses whereby you will have to change to breastfeed, think about adding a few wrap dresses into your closet as they offer easy access to the breast and they're also super comfy.
ece-auto-gen
A blouse with buttons will make it easy to unbutton the necessary buttons plus it's less tacky and messy, compared to a blouse that you have to lift as it can get spills in the process.
ece-auto-gen
If you're a young mum, you definitely still want to maintain that sex appeal. Consider front tie tops which are not only stylish but also a convenient choice for the breastfeeding mom.
ece-auto-gen
You should wear a nursing bra when breastfeeding because they offer better support for your breasts, compared to normal bras. Remember to wear nipple pads so that in the event your breasts leak, the milk doesn't transfer to the clothes.
6. Always include a scarf in your outfit.
Wear a scarf or carry it in your bag as you can use it as a cover when you feel too exposed when breastfeeding in public. 
Pulse Live Kenya
JOIN OUR PULSE COMMUNITY!
Recommended articles
Here are reasons why grooms cry at wedding ceremonies
5 ways to have more mind-blowing sex in your relationship
5 things you should never do to please a woman
Popular Nairobi lawyer Silas Jakakimba weds fiancée in star-studded ceremony [Photos]
What's the craziest thing love has ever made you do? 10 Nigerians share their drunk-in-love stories
5 medical examinations every couple needs before marriage
Different types of customers you will meet when working in customer service [Pulse Contributor's Opinion]
How to successfully shoot your shot [Pulse Contributor's Opinion]
Why won't my ex just stop texting me?