6 reasons why your nails are weak and keep breaking
Don't you hate it when your nail keep breaking?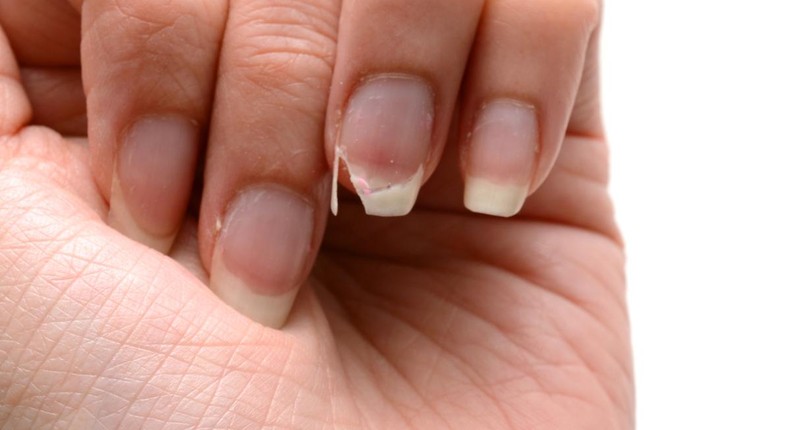 You will be fresh from a manicure and one week in, you see a small crack on your nail.
It's hella annoying because you have no option but to cut the nail and file it well otherwise you may end up scratching yourself or your nail tugging on clothes, hair etc, when you're getting ready and you definitely do not want that. Just why do nails break so easily though? We will give you a number of reasons why your nails are so weak and what you can do about it.
Iron is important in that it delivers the fresh oxygen to the nails to help them grow. Without it, not only will your nails become brittle but also stop growing. You can check for symptoms of iron deficiency such as feeling light headed or always feeling cold on your hands and feet and then be sure to eat foods rich in iron such as spinach, broccoli, chicken, etc.
2. Applying nail polish too often.
When you're used to always having your nails manicured, it might be hard to leave them bare even for a week. However, it's good to leave them untouched for a while and give them a break from the nail polishes so that they're healthy. Wearing nail polish always can be damaging to your nails because of the chemicals contained in nail polishes. Remember to always use a base coast to protect your nails and also allow the nail polish to last longer. Also, when buffing your nails, do not buff them too much as that can leave them weak.
ece-auto-gen
3. Not using a hand cream.
Every time you wash your hands, do apply hand cream. When you wash your hands with soap and water, that dries them up and you need to reapply the moisture onto your hands, focusing on the cuticles and the knuckles. This is because if your skin is dry, the nail bed will also be dry and this will cause your nails to be weak and end up breaking and cracking.
Biting your nails is not only very disgusting as your nails contain so many germs, but it can also cause your nails to be weak and brittle.
ece-auto-gen
5. Over cutting your cuticles.
First of all, you are not supposed to cut your cuticles in the first place. What you need to do instead is push them back. Cuticles act as a barrier against bacteria and water. If you have a small cuticle you need to cut and it's painful, you can go ahead and get rid of it with a cuticle cutter or go to a nail salon and have a professional do it for you because you may end up cutting it the wrong way and that will be super painful.
Biotin, which is also known as vitamin B or H is very good for hair and nail growth. Foods rich in Vitamin B such as kidney, avocado, eggs etc, will help strengthen your nails and enhance your nail growth. 
ece-auto-gen
JOIN OUR PULSE COMMUNITY!
Recommended articles
5 things people don't consider as cheating but actually is
Avocado: The health benefits of this fruit are priceless
​Turmeric: 6 unique ways to use this ingredient
5 body language signs you're about to break up
5 parenting tips to raise children in the digital age
Why men hurt more than women after breakups
Meta outlines new measure to protect teens from bullying
Guide to surviving the 2022 World Cup for people who don't care about football
For women: Here's what wearing makeup to the gym can do to your skin