10 types of men you find in Kenyan clubs
He'll promise to pay your Uber only for his phone to go off when you get home.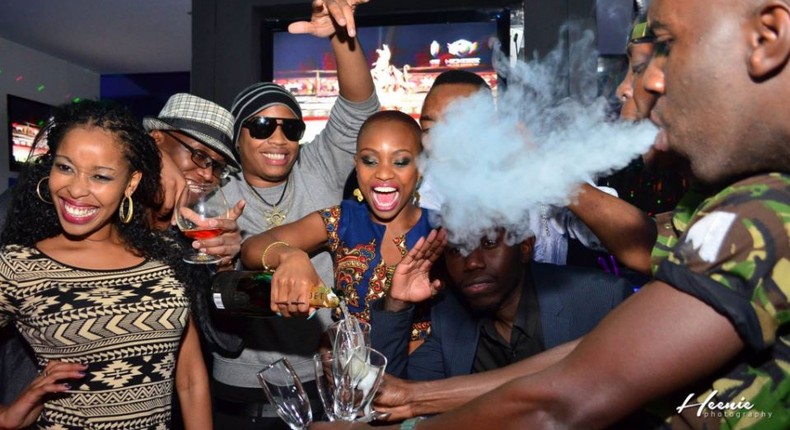 Welcome to the Kenyan night life.
An ever active space filled with hype, sex,over indulgence of alcohol and very angry wives who pick their husbands from the clubs at 3am. The ambience is lovely, the music ever on point and the men... well, there's a variety.
These are 25 -27-year-olds who buy just one bottle of hard liquor and fill the table with beer for their Whatsapp groups to see. They'll try to hook up with anything in a skirt, especially the waitresses. In secret, some depend on old rich ladies to give them money since their jobs as tellers can't afford the lifestyle.
Successful men who've just gotten married and their wives are pregnant with baby number two. Having finally gotten a big break at work, they splurge on the coolest phones and prefer Premios to Subarus. These guys are just looking for a quick night stand in the car or take you back to their single guy's crib for a few rounds of sex in the guest room. Most often than not, they get to the club just before midnight to poach drunk girls with broke boyfriends who can't afford another bottle of whiskey.
Girls love to hate this kind of man. You know, the guy who will constantly push you towards his crotch as he forces himself on you while you're dancing. And he insists! No matter how hard you slap him or shove him away, he will always try to grind himself on you and with no apologies whatsoever.
Thirsty ladies smell him from miles away. He is the hottie that walks in with his friend and keeps to himself the whole time. On the dance floor, a lot of women will generously give themselves to him and don't mind the whole dirty dancing with a stranger they will probably not get to go home with because ultimately, he ends up picking up a prostitute at the parking lot. Also, he probably does cocaine and other hard drugs.
5. You should know people
Drunk, broke and dependent on his rich friends, this is the guy that will get offended if you don't know his name. He's probably an Instagram or Twitter sensation with a big ego and a thousand bob Mpesa balance. You also know him as the "You guy" jamaa that hold a cocktail for three hours while he waits for his rich friends to get bored of beer and buy liquor. He knows his hip hop and will scream, "Ooooh" every time the Dj starts playing Panda. He'll book you an Uber to take you home promising to pay the bill only for you to call him later and find his phone off.
The Female Body Inspector; worry yourself silly if you find yourself with this people. Besides pulling your arm really roughly when you try to walk away, they'll be sure to send a body shaming insult your way if you get offended when they grope you.
His dates always ditch him because he only wants to talk about football but he doesn't mind because he's with his boys. The bro never goes out alone. Find him in the club with his team of six dressed in checked shirts and khaki pants sipping on a bottle of William Lawson and sheesha. They won't hesitate to tell you just how much your beauty has captured their attention. They like girls who look established and a bit mature but in the dm's are akina Claire from university with the colored weaves and print tights for booty calls.
Go out with a Sleepy Davy and he'll either ask you to leave the club early or he'll pass out before you. This is the guy that drinks with moderation even though he pretends to drink a lot, has two left feet and has so many stories to tell you if you're into politics and sports. Oh, did I mention he's terrible in bed?
He dresses the part, doesn't have a shoe worth less than Sh6000 (preferably Jordans) and owns a Samsung Edge or iphone6. His posse includes a lesbian, a few beautiful Instagram beauties that like to call themselves event hosts and his boys who are also rich kids like him. Yes, the money belongs to his parents.
You can also call them sponsors. Old men in their late forties and fifties who wear track suits to clubs and drive Prados. These are the kind of men who stop you in the club and ask you to join them as they have expensive drinks. They don't do much other than chat on their phones as they touch your legs as they wait for you to get drunk. They promise you money inexchange of your body and trust me, they spend better than the average Apex Predators named.
Note, the only reason why youngins are missing in this lis is because their two bottles of Mc Mohan only get noticed by the waiters they keep asking for ice and the bouncers when they finally get kicked out for being too drunk.
JOIN OUR PULSE COMMUNITY!
Recommended articles
Cucumber: The health benefits of this fruit will leave you speechless
KTN anchor holds dreamy beach wedding ceremony on her birthday [Photos]
Fairytale bride: The 3 dresses Rita Dominic wore on her wedding day in detail
Check out how Rita Dominic and her husband looked at their white wedding
The way of men - How the 1st inaugural men's event went down
DIY Recipes: How to make Sausage salad
5 things people don't consider as cheating but actually is
5 foods that help wounds heal faster
Avocado: The health benefits of this fruit are priceless