9 head-turning ways to style your pair of jeans (Photos)
Dress it up or dress it down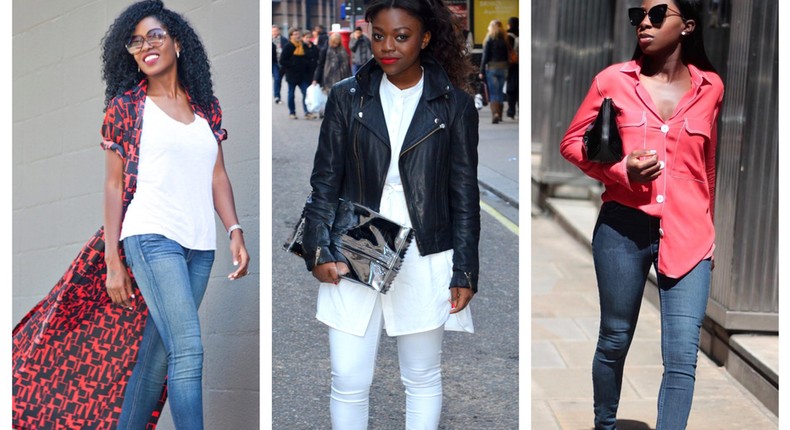 Styling a pair of jeans is not so complicated. Right ladies?
After all, if you're dressing it up, you pair it with chic standout pieces, add a pair of sexy heels, accessories and you're good to go. And while dressing it down, you simply merge style and comfort by pairing your jeans with flats such as trendy sandals, slip ons or sneakers and a cute tank, bodysuit or vest. I mean, how complicated can that be? But, have you ever tried to style your jeans in other out of the box ways? They say there are no rule books when it comes to fashion and sure enough, you're free to wing it. Whether you're going for a vintage, model off-duty or sporty chic look, there are numerous other ways that you can style your pair of jeans and we will show you how to do that. Remember though, that every woman needs the perfect pair of jeans, nothing too distressed or too exaggerated. Just plain old skinny jeans with one solid color and one that fits perfectly. When shopping for jeans, you gotta do the squat test to find out if it's the perfect pair. Check out fab way to style your jeans…no basic looks next year!
1. Say it out loud with a statement or graphic tee.
This year, statement tees were really huge and the beauty of the trend is that while it may be a fad, a graphic tee is a perennial basic that can be worn regardless of the season. Whether you want to make a political or fashion statement, or maybe just rock a simple quote, why not do it with a statement tee and let the t-shirt do the talking for you? We love how this lady added a duster vest coat to complete the look. Steal the look and throw over a duster coat, sweater, shirt or even a kimono to add flair to the look.
2. You can never go wrong with the good old jeans and blazer look.
Another trend that we have seen this year is the return of the oversized/boyfriend blazer. This look can be dressed down or dressed up and you should definitely give it a try.
ece-auto-gen
3. The 'Add your personal touch look'.
What's your style? Vintage? Sporty chic? Grunge? Do not be afraid to add your own personal touch. If you like vintage style, you could go for vintage blouses and retro accessories for instance and for the grunge look, you could tie a plaid shirt on the waist or mix grunge basics like graphic tees and worker boots and for the biker chic look for instance, it can't be complete without pieces such as the good old biker/leather jacket.
ece-auto-gen
4. Make a statement with the top.
A pair of jeans is pretty basic, but you can still make a statement depending on how you choose to style it. Take for instance, this fashionista who styled her pair of jeans with a long asymmetrical blouse and heels. Effortlessly stylish.
ece-auto-gen
5. Front tie tops - another trend that's all over.
Such a sexy look for a night out. Plus, if you do not have a front tie top, you can easily DIY or even just grab your favorite blouse and turn it into a front tie top.
ece-auto-gen
Show off your abs by pairing your jeans with a bralette or crop top and heels. This look is perfect for a night out. You could throw over a duster coat on your shoulders if cold.
ece-auto-gen
7. The 'I stole this from my boyfriend' look.
Style your pair of jeans with an oversized boyfriend shirt or even oversized denim jacket for a chic-meets-androgynous look that's different but stylish.
ece-auto-gen
8. The downright bold, head-turning look.
New trend in town? Try it. Saw Rihanna sport something and wanna rock it? Knock yourself out. Fashion is all about expressing yourself, experiment with the pieces you already have in your wardrobe and see what works.
ece-auto-gen
9. If all else fails, well, the denim on denim look will never ever fail you boo.
ece-auto-gen
JOIN OUR PULSE COMMUNITY!
Recommended articles
South African star Ami Faku delivers rousing performance at Drip Fest [Photos]
5 traditional qualities money has replaced in modern relationships
Is love transactional? - First episode of Pulse LSL premiers [Video]
5 things you can do if you are stuck in a queue for hours
5 reasons you should consider having a court wedding
The perfect nail color to wear when your boyfriend proposes
4 side effects of eating peanuts in excess
Miracle Baby's girlfriend treated to surprise baby shower [Photos]
Badagry Slave Route: Slaves passed these 5 notable stops on their journey of no return