From red carpet to casual chic: 10 best-dressed female celebs this week
Here are some of the best-dressed female celebs in Kenya this week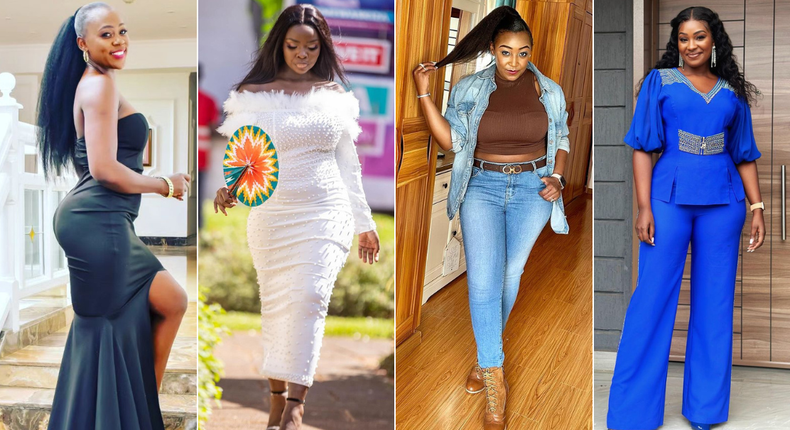 Fashion has always been an art form that allows individuals to express themselves creatively and confidently.
In the Kenyan entertainment industry, celebrities not only take the stage with their talent but also with their impeccable style.
Each day the spotlight is on these fashion-forward icons as they grace red carpets, attend glamorous events, or simply step out for coffee.
Why celebs embrace glamour
Celebrities have a unique platform to influence fashion trends and inspire their fans. They understand the power of a well-curated look, which can boost their image, career, and self-confidence.
Donning stunning outfits sends a message of poise and elegance, setting the bar high for their followers.
From designer dresses to casual chic
One thing that's evident among these fashion icons is their versatility. They effortlessly transition from high-end designer gowns to casual yet chic attire.
With exquisite details and luxurious fabrics, expensive designer dresses make a statement on red carpets.
But it's not all about opulence. Denim, rugged jeans, and comfortable Kitenge prints are also part of their style repertoire.
These casual looks exude a different kind of elegance, showing that you don't always need a red carpet to flaunt your fashion sense.
Suits & boots: The power look
Suits are the go-to option for events that call for power and authority. Kenyan female celebrities are often seen donning tailored suits that accentuate their confidence and charisma.
Suits paired with heels or loafers create a commanding presence that demands attention.
Completing the look with accessories is an art in itself. Celebrities carefully select the right jewelry, handbags, and shoes to complement their outfits.
Whether it's a dazzling necklace, a statement clutch, or the perfect pair of heels, these accessories add a touch of glamor and individuality to their attire.
Here are the top 10 best-dressed female celebs in Kenya this week
Akothee
Amina Abdi Rabar
Pulse Live Kenya
Yasmeen Saiedi
Pulse Live Kenya
Maureen Waititu
Pulse Live Kenya
Betty Kyallo
Pulse Live Kenya
Vera Sidika
Pulse Live Kenya
Brenda Wairimu
Pulse Live Kenya
Wanjiku Stephens
Pulse Live Kenya
Neema Sulubu
Pulse Live Kenya
Mercy Mutindi
Pulse Live Kenya
JOIN OUR PULSE COMMUNITY!
Recommended articles
10 personal spaces every partner should respect in a relationship
5 things every woman wants for Christmas
7 signs you're a highly sensitive person — even if you're a chatty extrovert
Lessons for sub-Saharan Africa from a Malaria-free Belize
4 reasons locked hair grows longer and stronger than normal hair
4 African countries are responsible for 70% of the chocolate in the world
Hungarian Recipe: How the famous Jókai bean soup is made
7 reasons women don't get wet even when aroused
4 diet changes that may help ADHD symptoms, according to a dietitian