How to dress like Stonebwoy in 5 easy steps
Dressing like the popular Ghanaian dancehall and reggae artist, can be a fun way to express your admiration for his music and fashion sense.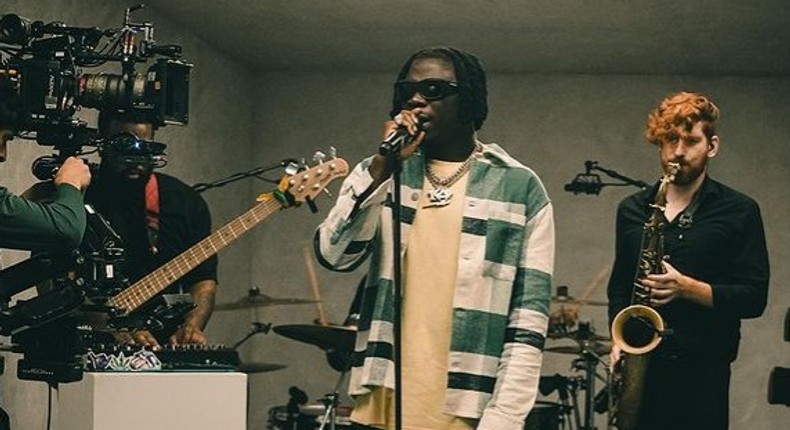 Here are five easy steps to help you achieve a look inspired by Stonebwoy:
Start with a Rasta-Inspired Hairstyle: Stonebwoy often sports a Rasta-inspired hairstyle. If you have long hair, consider growing it out and getting it styled into dreadlocks or braids.
If you have shorter hair, you can use extensions or wear a wig to achieve a similar look.
Wear Bold and Vibrant Colors: Stonebwoy is known for his love of vibrant and bold colors. Look for clothing in bright shades like red, green, yellow, and black.
A good starting point would be to wear a brightly colored T-shirt or hoodie as the base of your outfit.
Accessorize with Jewelry: Stonebwoy often wears a variety of jewelry, including chains, bracelets, and rings.
Consider adding some gold or silver jewelry to your outfit to give it an authentic Stonebwoy vibe.
Baggy Pants or Jeans: Stonebwoy often wears baggy pants or jeans in his music videos and public appearances.
Choose a pair of baggy pants or distressed jeans in a dark color to complete the bottom half of your outfit.
Footwear: Stonebwoy is often seen in stylish sneakers or boots. Look for a pair of sneakers with a sleek design and bold colors to match your outfit. High-top sneakers can also be a great choice.
Optional: To complete the look, you can add a cap or beanie with a unique design or logo that represents Stonebwoy's brand.
The key to dressing like Stonebwoy is to be bold and confident in your style choices.
Don't be afraid to mix and match colors and accessories to create a look that captures his unique fashion sense.
Additionally, you can add your personal touch to make the style your own while still paying homage to the artist.
JOIN OUR PULSE COMMUNITY!
Recommended articles
10 personal spaces every partner should respect in a relationship
5 things every woman wants for Christmas
7 signs you're a highly sensitive person — even if you're a chatty extrovert
Lessons for sub-Saharan Africa from a Malaria-free Belize
4 reasons locked hair grows longer and stronger than normal hair
4 African countries are responsible for 70% of the chocolate in the world
Hungarian Recipe: How the famous Jókai bean soup is made
7 reasons women don't get wet even when aroused
4 diet changes that may help ADHD symptoms, according to a dietitian