Easy DIY to turn an old t-shirt into a cool kimono (Photos)
Got an old t-shirt at home?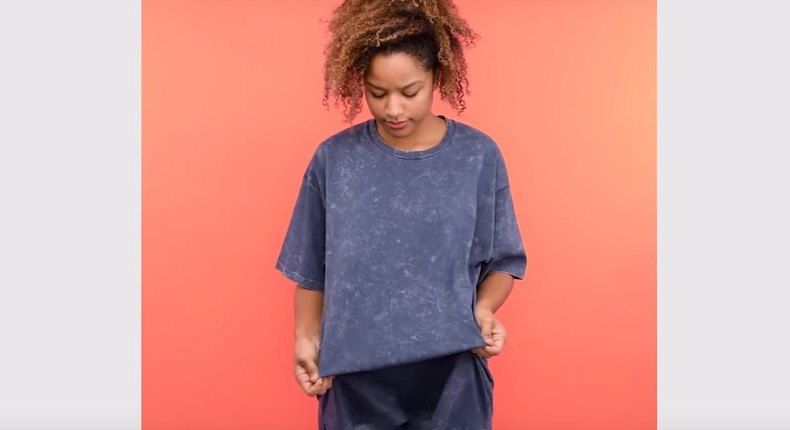 If you're anything like us, then you will concur that
Being crafty can save you so much money. Instead of buying new clothes every now and then when you need them, you can just make your own fashionable pieces from the comfort of your house, by following the YouTube tutorials which are in their hundreds; spanning from home and gardening DIYs to fashion related ones. We have covered a few DIYs here such as how to revamp your old doll shoes and even how you can make a bodysuit from scratch, among many others. Today, we will show you have to revamp an old oversized t-shirt into a trendy kimono in just simple steps. You will probably never wear the t-shirt, right? So, you might as well put it into good use. If you have none, your boyfriend, brother or even dad can't lack one oversized tee that he no longer wears. You have permission from us to steal it, but we are not responsible if you get in any trouble:)
-An old oversized t-shirt, preferably one in a vibrant hue, say denim like, tie and die or a prints.
1. Place your t-shirt on a flat surface and cut off the hemline carefully, with a pair of scissors.
2. Then, using a chalk, draw a line from the hemline, going vertically towards the neckline of the t-shirt.
If you're good at cutting straight without tracing first, you can go ahead and cut a straight line from the hemline all the way to around the neckline.
ece-auto-gen
ece-auto-gen
3. The next step is to add flair to the hemline by turning it into a fringed one.
ece-auto-gen
4. Stretch out the fringes and the neckline and it's ready to wear.
Oversized clothes are very trendy at the moment and this would make for a perfect weekend social event outfit.
ece-auto-gen
JOIN OUR PULSE COMMUNITY!
Recommended articles
NTV anchors Ben Kitili & Lofty Matambo promoted to senior roles
15 of the wildest animal specimens I saw hidden underneath one of the world's largest natural history museums
Cucumber: The health benefits of this fruit will leave you speechless
KTN anchor holds dreamy beach wedding ceremony on her birthday [Photos]
Fairytale bride: The 3 dresses Rita Dominic wore on her wedding day in detail
Check out how Rita Dominic and her husband looked at their white wedding
The way of men - How the 1st inaugural men's event went down
DIY Recipes: How to make Sausage salad
5 things people don't consider as cheating but actually is