Why settle for regular sandwich when you can have one of these
Rather than take the regular omelette sandwich, consider yogurt sandwich, chicken sandwich or any of these.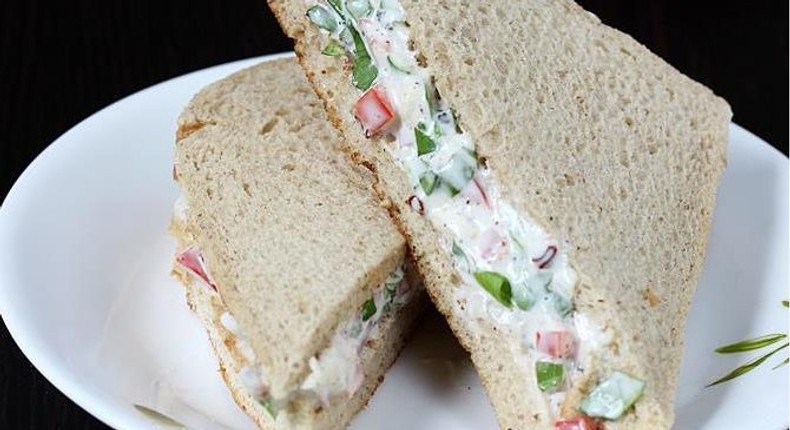 A sandwich is basically a slice of two of bread with nice and tasting fillings to go.
Sandwiches are quite easy to make and can be modified with just any ingredient of one's choice. Asides from the conventional egg sandwich, beans sandwich, beef sandwich, noodles sandwich even chicken sandwich are a few other sandwiches to give your meal the adventure you desire.
Here are a few sandwich recipes you should consider preparing the next time you want a sandwich.
This sandwich can be prepared by mixing yoghurt, veggies, chilli flakes and chopped coriander leaves in a wide bowl. Then spread on the bread slices.
2. Tomato cucumber sandwich
From the name of this sandwich, one can infer that it's basically a combination of tomatoes, cucumber, pepper powder and scoops of mayonnaise spread a slice or two of bread.
3. Vegetable grilled sandwich
This sandwich requires boiled potatoes, tomatoes, bell pepper, onion, cucumber and butter and other veggies of choice (blended together) and spread over slices of bread.
4. Avocado corn salad sandwich
With 1 ripe avocado, sweet corn, tomato, onion, diced carrot, pepper powder, lemon juice, butter and of slices of bread, you can achieve this delicious sandwich.
5. Tomato cheese sandwich
Tomato, cheese, onion, chilli flakes, powdered pepper and butter all spread of slices of bread, Tomato cheese sandwich is all done.
JOIN OUR PULSE COMMUNITY!
Recommended articles
Lucky gamblers allowed to bet on Man United vs Liverpool game after it ended
Here's what to do when a guy won't take no for an answer
Why I'm no longer talking to slim people about body positivity
Millie Odhiambo lectures baby mamas for extorting their spouses
Guys, here are 15 truths your girlfriend never wants to admit to you
4 side effects of being a virgin for too long, according to research
Why do men get so, so angry when they're cheated on?
Over 100 strangers surprise Kenyan couple on their wedding day [Video]
A guide on How to Simp, and why it's necessary