4 sure ways Kenyan graduates can get hired through LinkedIn
LinkedIn was rated the best networking site globally yet the most underutilized.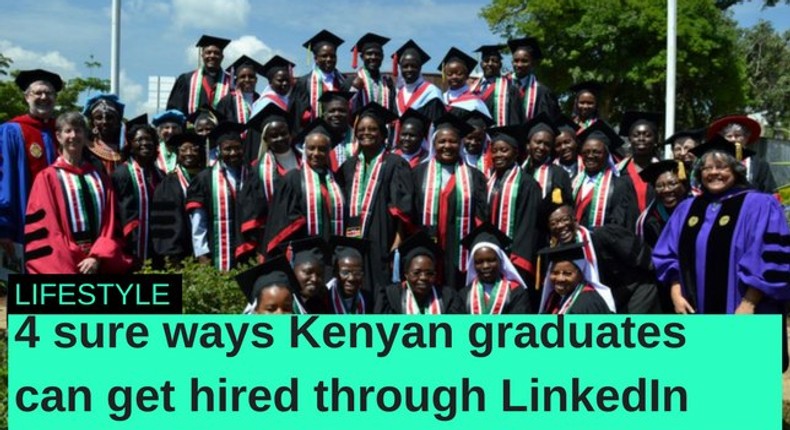 It's no secret, looking for a job in Kenya is quite a hustle. Actually, it's a global problem.
But unlike the other glaring matters that are beyond our control (such President Trump's hate for immigration), seeking employment is a struggle everyone has to go through in some point of their lives.
You can't give up, you just have to push on until you find a way of earning.
Yet, laying untapped is an online platform that has a high potential of getting you the dream job you've been looking for.
I can even bet that you have an account only you didn't know how to effectively utilize the site to your advantage.
According to internationally acclaimed employment ad website, Jobvite, LinkedIn is the most underutilized professional networking site with an audience that is 94% employer and 36% employee candidates.
To be clear, a lot of people already have accounts but have not made the effort of actually creating a marketable profile that could attract potential employers.
What does your LinkedIn profile say about you?
Does it make you look like an expert in your field or does it make you look like a newbie?
No worries, we've got you.
Here are some tips as given by Human Resource guru Brittani Hunter to make sure that you are as marketable as any other hotshot.
1. Create a headline to reflect who you are, and what you are looking for.
Your profile headline should comprehensibly tell people, who you are, your credentials (education qualifications such as an MBA) and what you are looking for. Instead of saying ''Lifestyle Editor at P Live.co.ke' you can just 'Lifestyle Editor & Law Student' and you occupation in the experience section of your profile. This will help recruiters to find your profile when searching for candidates with specific wording.
2. Do not treat LinkedIn as just your online resume.
Having your resume on the site is not enough to make the big win. LinkedIn allows you to easily connect with potential employers, join groups of professionals of similar work interests and network.
Big tip: it is very important to be as active on LinkedIn as you are on your other social media pages.
That way you get first- hand information about upcoming jobs opportunities. You could also write a few blogs and articles in your field to generate conversations that could give you a forum to learn, connect and show your prowess in your field of work.
3. Blow your own trumpet.
It's called selling yourself. Use LinkedIn to show people just how good you are at what you do. The site allows you to list your skills and include your resume information. Showcase the kind of work you have done, that way you give yourself an edge against the other people qualified for the same.
4. Let another person blow your trumpet
Another amazing feature on LinkedIn is that it allows people to write recommendations for you. Don't shy off asking your friends to do you that favor. You can offer to write theirs too. This goes on to add your credibility in the eyes of recruiters who view your profile. Also, considering that it is your work that you are trying to sell, don't hesitate to tell your friends exactly what you want them to write on the recommendations.
Brittany gave a very comprehensive list of what she asked her people to write. Check this out:
I hope you are doing well. I'd like to ask a huge favor — Would you write a quick LinkedIn Recommendation for me? I would love it if you'd mention my hard work ethic, my team work skills, and my organizational skills. If you have any questions or if you would like for me to write a recommendation for you, please let me know.
Do you think you could write that out in the next week or so? If so, I'll really appreciate it.
Thanks in advance for your help.
Have you ever gotten a job through LinkedIn?
JOIN OUR PULSE COMMUNITY!
Recommended articles
7 weird things men find attractive in women
9 feminine hygiene tips every girl should know
10 outdated gadgets that will make you nostalgic
Fashion designer Diman Mkare announces expecting first child [Photos]
6 tips to enjoy rest when struggling to slow down
These are 5 top signs of fake love in a relationship
How to Deal With Carpal Tunnel
10 unwritten rules for healthy social relationships
How ex-Presidential staffer turned school into a luxury resort [Photos]